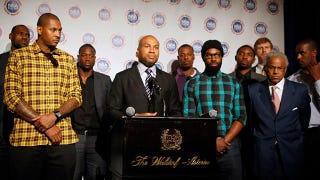 Today is last day the NBA lockout can end without missing games. Too bad. The lockout isn't ending, despite the social media screeching of various union members. The NBPA thankfully has retweeted much of that screeching solidarity. Here's how we classify it.
The Kingpins
derekfisher LET US PLAY #StandUnited
DwyaneWade LET US PLAY. #StandUnited
D_West30 #StandUnited
Fisher is the union big shot, and the progenitor of "#StandUnited," so his tweet tells other players how they might go about spreading the message. Wade adds necessary punctuation, and force. David West, the silent assassin, tweets only the hashtag, delivering it calmly, cooly, like a 17-footer.
The Retweeters
KDTrey5 RT @derekfisher: LET US PLAY #StandUnited
QRich #UnitedWeStand RT @derekfisher: LET US PLAY #StandUnited
Durant's a follower, always waiting for the guard to make the move. He retweets Fisher, afraid to venture on his own. This contrasts with the approach of the oft-selfish, oft-errant Q-Rich, who retweets Fisher but then devises his own hashtag that could lead to plenty of right-wing spam. It's like a contested three with 15 seconds left on the shot clock. I can't wait to see the hashtag Al Harrington devises.
The Punctuators
ATolliver44 LET US PLAY! #STANDUNITED
CP3 LET US PLAY!!! #StandUnited
KingJames LET US PLAY!!! #StandUnited
carmeloanthony LET US PLAY!!!!!!! #StandUnited
CBoozTheBull LET US PLAY..... #StandUnited
The Timberwolves' Anthony Tolliver is one of those high-energy bench players. Of course he'd use an exclamation point and caps-lock the hashtag. Maybe Chris Paul, uniform number three (and @CP3 on Twitter), wanted three exclamation points, for brand consistency's sake. Perhaps LeBron wanted three exclamation points to commemorate the Big Three he assembled in Miami, or the three quarters he plays in every playoff game. Understandable.
Less understandable is Carmelo Anthony's seven-exclamation-point masterpiece. Were his keys sticky? Maybe he's just cranky because he could have been a free agent this offseason, had this offseason existed. "LET US PLAY!!!!!!! so I can see how far my max contract offer has shrunken," he implies.
And what more is there to say about the ominous, morose, brooding elongated ellipses of Carlos Boozer. It reads as though he's threatening Bulls fans: "LET US PLAY..... so you can once again see my defensive obliviousness on a national stage." How about we let everyone else play?
The Skeptic
Yes, yes we are. Stand united, damn it. It's a great strategy. If this were a real union, you'd be in the trunk of Marco Belinelli's Lexus for talking like that.