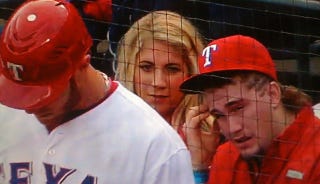 Your morning roundup for Oct. 11, the day we discovered protest-themed condoms. H/T to KingCuyahoga and Cory. Got any stories or photos for us? Tip your editors.

What we watched: The bumbling Bears. Oh, sure, the Lions' win last night was historic, it kept them unbeaten, and it no doubt soothed the sting that resulted from the Tigers having fallen behind, two games to none, in the ALCS just hours earlier. But ... those Bears. Nine false-start penalties? Yes, the game was indoors, but it's not like Lovie Smith found that out once the team bus pulled up outside Ford Field. Yeesh.
Elsewhere
This sounds promising: "Stern hinted that the owners' proposals to the players might only get worse so they can recoup losses incurred by the cancellation of games. Many players have long expected the league would wait until the players started missing paychecks to see if the union would settle for a less favorable deal. 'They are more dug in than before, but it goes back to a comment David made to me several years ago,' said Players Association executive director Billy Hunter. ' 'This is what my owners have to have.'' And I said, 'The only way you're going to get that, is if you're prepared to lock us out for a year or two.' And he's indicated to me that they're willing to do it. So my belief is that everything he's done is demonstrating that he's following that script.'" [Yahoo]
Some dude in Canada is now pro football's all-time passing yardage leader: "Anthony Calvillo is the pro football's career passing leader. The Montreal Alouettes quarterback broke Damon Allen's all-time CFL record of 72,381 passing yards with a 50-yard TD pass to Jamel Richardson on the final play of the third quarter against the Toronto Argonauts. Allen was on hand at Percival Molson Stadium, along with CFL commissioner Mark Cohon. Following Richardson's TD, play was stopped and both Allen and Cohon, as well as member of Calvillo's family, took part in a ceremony to honour the 39-year-old Calvillo." [TSN]
Your "One-In-A-Zillion" Penguin Mutation Interlude:

Bartender attention-getting etiquette: "If you want a drink quickly — and everyone does — it's best to work within this system. Try to make eye contact as soon as you step into the room or as soon as you find a space at the bar. If that's not possible, a little raise of the hand or nod of the head is O.K., but please, please don't wildly flail your arms. A common misconception among customers is that brandishing cash or a credit card is a sign that you're ready to deal. To bartenders, this behavior is not only impolite, it's pointedly dehumanizing. The best way to get, and keep, your bartender's attention is to be respectful, which actually matters more than big spending and tipping." [New York Times]
Guess who! (It's Mitch Albom): "From the jump, the human amplifiers in Ford Field were dialed to the point of explosion. The whole first quarter had the feeling of a building on fire. The stands were 5,000 volts of nervous energy. Players soared and crashed furiously. Yellow flags flew so fast you thought they were being thrown by Kevin Bacon at the riotous end of "Animal House." Stay calm! All is well!" [Detroit Free Press]
Merch: Managing editor Tom Scocca and contributing editor Drew Magary have both written books. You can buy Scocca's Beijing Welcomes You: Unveiling the Capital City of the Future here, and Magary's The Postmortal here. Now do it.
Send stories, photos, and anything else you might have to tips@deadspin.com.