BELLEFONTE, Pa.—Lock Haven is a small town attached to an oily green bend of the Susquehanna River in central Pennsylvania. It is the kind of place where Main Street is peppered with mom-and-pop shops and a quarter in the meter buys you 150 minutes. It is also the kind of place where an evil little man with a gun will try and scare you when you ask questions about Jerry Sandusky. The man will sidle out of a back room in the Clinton County district attorney's office—which is located, fittingly, in a basement beneath a dentist's office. He will emerge when you ask one question too many. Which is the first question.
The reason Sandusky is on trial is because he allegedly molested a Lock Haven boy, which touched off an investigation. He is also on trial because he allegedly committed dozens of other wicked acts that, for years, people in the area managed not to notice.
But do not mention this in the Clinton County district attorney's office. Do not even inquire about general criminal procedure. First, a secretary will tell you she cannot help you. Then an assistant DA will sneer at you: "There's a law school up the street. You could go ask them." And then the man with the gun will appear. He will appear quietly, a small man, with white hair. A man who would need a gun.
"Good luck," he will say. He will not mean it.
And that is how Deadspin's Penn State reporting trip began—in a face-off with a sidearm-toting stooge underneath a dentist's office. Seems appropriate.
G/O Media may get a commission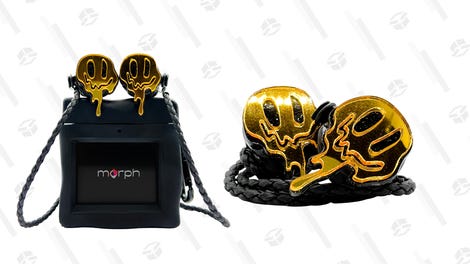 morph audio
Morph Earphones
My Deadspin colleague Dom and I had come to central Pennsylvania for Jerry Sandusky's preliminary hearing today in Bellefonte, a borough about 15 minutes from State College and a world away from Lock Haven. At least five of Sandusky's 10 accusers are expected to testify, and by Monday afternoon the scene around town had come to resemble the lit-up scurrying of a movie set.
Bellefonte is Lock Haven's prettier cousin. It has a tidy Victorian downtown centered around a big colonnaded courthouse. By 3 p.m. on Monday, the TV creatures had already begun to muster outside the building for stand-ups. In preparation for the hearing, Richard Wyckoff, the president of the Pennsylvania Association of Broadcasters, had marked company-specific shooting areas on the grass in orange and white spray paint. The lawn looked like a map of feudal Japan.
"First come, first served," Wyckoff told me.
NBC's Chip Bell was first, as people with names like Chip Bell often are. But what of ESPN? "Late," said a woman at the credentials table. Dom and I had seen Bob Ley and the Bristol boys earlier. They were hard to miss, what with their expensive overcoats and leather satchels and their loafing and sauntering and loafering outside the courthouse. They eventually disappeared into a Dairy Queen, and we began searching for more important journalists. It was then that I spotted Armen Keteyian skulking—there is no other word for it—outside a nearby building.
By then, the residents of Bellefonte had begun to gather in the streets. The sun had gone down and the Christmas lights were coming on. More and bigger TV trucks rolled in. The police began to barricade certain roads. Directly in front of the courthouse, next to the statue of former Pennsylvania governor Andrew Gregg Curtin, the town had erected "Santa's House," a yuletide shanty wherein I suspected a fat man in a beard put kids on his lap. It felt either perfectly incongruous or perfectly appropriate.
But so did the general atmosphere in Bellefonte. Life in the tiny town (2010 population: 6,187) looked normal on Monday night: People walked their dogs, shopped, sweated in the YMCA's kickboxing class. Yet a curious carnival enthusiasm prevailed. It wasn't just the excitement that comes before a storm hits. It was merriment. Businesses had extended their hours and were offering special deals to visitors. Court clerks were unnaturally friendly. Bellefonters everywhere were in high spirits.
At Mamma Lucrezia's Pizzeria and Italian Restaurant, our waitresses were giddy. "Was it good?" one asked after we finished a pizza. "[We're] getting everybody carbed up for tomorrow!"
It was as if we'd arrived in town the day before a big game. If you thought, by the way, that it was too early to make Sandusky jokes where you live, I can tell you that people are making those very jokes just 15 minutes from State College. The one we got came from the same waitress in describing her restaurant's famous dessert: balls of fried pizza dough dusted with powdered sugar and cinnamon and drizzled with chocolate and caramel sauces.
"Would it be wrong to call them Sandusky balls?" the waitress asked.
Of course not. So we ordered a batch and rushed out into the night to see if Armen Keteyian wanted to taste them.
Update: Annnnnnd ... scene.
More: Grainy photos from Bellefonte | A guide to the child sex abuse charges against Sandusky