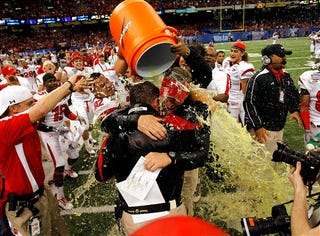 This is going to be a very laid back, no- hassle day spent perusing the internet for sports-related ephemera until the NFL games start. Right now, I'm in NYC at a coffee shop at 13th and B. Please stop by and say hello if you're in the area.
The above photo is courtesy of the Deseret News, which is providing ample coverage to its Utah Utes who dismantled Alabama's vaunted defense during last night's Sugar Bowl for a convincing 31-17 victory. Yet, of course, that 13-0 record won't do anything to help them win any shares of the BCS Title. Your Mountain West Conference is too weak and puny for our tastes.
Other Bowls:
• Graham Harrell is the NCAA's best TD chucker, but his Texas Tech Red Raiders lost to Ole Miss in the Cotton Bowl. I'll tell you about Texas radio and the big beat...
• Kentucky captures its third straight bowl victory by defeating East Carolina in the Liberty Bowl.
There you are. Tip me if you need to, or find us a bar with WiFi so we can go drink and watch the Buzzsaw get trounced at 4 p.m.
13-0 Utes run over one of BCS' best [Deseret News]
Tide Beyond Sour to Start The Game [Tuscaloosa News]