The Big Lead snagged this pretty awesome anecdote about injury-prone big man, Greg Oden. It turns out, Oden's not much of a locker room presence.
Jason Quick, Blazers' beat writer for the Oregonian, conducted a radio interview with 1080 The Fan and shared these thoughts about Portland's not-so-special player:
I can't really stand to be around him. He's such a downer. He's not a very fun guy to be around and he's not a very fun guy to talk to. I think his teammates like him, but that guy is not interacting with very many guys in the locker room right now. He can't let go of being Greg Oden. I think he's obsessing with all this expectations. Until he starts having fun again playing basketball, he's not going to get better. I don't know how he's going to do that.
Blazers' coach Nate McMillan also sees that Oden needs little coddling so, apparently, he treats him like a potty training special needs child . Here's an example of McMillan's embarrassing positive reinforcement:
Oden's statistics against Toronto were modest — 10 points, 10 rebounds, two blocks. But his defense was a major factor in the game. He was a formidable presence, often changing the shots of driving players. He held his ground against veteran Jermaine O'Neal, causing the former All-Star to make several wild, fading attempts.

"He was really looking like that center of the future," McMillan said. "I just thought he did some good things, and so I said that to the team. I said, 'Big fella, you came through. I like what you are doing.'"

Spontaneously, the team erupted in applause.
Yaaaay.
Blazers Give It Up For Oden [The Oregonian]
Message to Greg Oden: Quit Paying Attention to the Media and Get Your Head in the Game [The Big Lead]
G/O Media may get a commission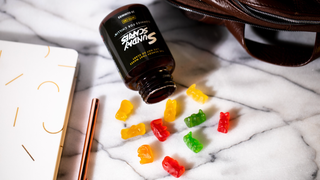 10mg CBD Gummies (22-Count)