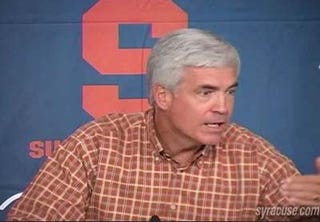 You've gotta feel for Greg Robinson. He seems like a nice enough guy, and by all accounts he's a decent coach. His heart's in the right place, and all that. But if you ever wanted a more vivid picture of what the strain of coaching a major college football team is like, take a look at the video below of Robinson's final press conference as head coach at Syracuse. Oh, and if you have kids, you may want to gather them around the computer monitor.
Things started out weirdly enough, but when he broke out the children's book The Little Engine That Could and started reading from it, well that was just sad. Or, I mean hilarious. I can't decide, actually.
Excerpt From Coach Greg Robinson's Last News Conference
This will go down in history as the most famous reading of a children's book since George W. Bush and Our Pet Goat, only this time there was a distinct Nixon Resignation Speech flavor to the proceedings. The only thing missing was Robinson telling Henry Kissinger to get on his knees and pray with him.
Unfortunately, reporters began filing out of the room before Robinson could begin reading from Who Moved My Cheese?
Greg Robinson's Little Engine: 'I Still Think I Can' [Syracuse.com]