We'll be putting all our GIFs for the day here from Antonio Brown running in reverse to the Miami Dolphins kissing the Jets' season goodbye. We'll update the post as the later games conclude, so stay tuned.
Pittsburgh 27, Washington 12: The Steelers scored on their first four possessions of the game and never looked back. Except when, as you can see above, Antonio Brown decided to be a jerk and ran backwards for about 20 yards into the endzone. Sadly, the play was called back and Antonio looked like an even bigger jerk. Robert Griffin III had a pedestrian day with 177 yards and only one touchdown because Leonard Hankerson got an early start on his trick or treating.
Cleveland 7, San Diego 6: Trent Richardson had a pair of interesting runs today in an otherwise uninteresting game. First, there's this nice slip 'n slide end to a run in the first quarter that finds Richardson depositing himself safely under the Cleveland bench.
G/O Media may get a commission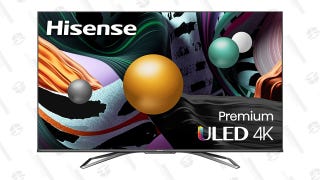 Save $350
Hisense ULED 65" Android 4K HDR Smart TV
Richardson was not done running into things he should not run into, however. He later found himself sandwiched between two teammates as one lineman almost tackles him, while the other holds him up, allowing him to then run into the end zone for the only touchdown of the game.
New England 45, St. Louis 7: The Rams offense drew first blood today on this 50-yard bomb from Sam Bradford to Chris Givens. Bradford and pals were then kidnapped by The Queen's Guard and never heard from again.
Speaking of the Queen's Guard, the cultural phenomenon that is Rob Gronkowski honored the outfit with this special Gronk Spike.
Ah, what the hell, one more Gronk Spike for the road.
Chicago 23, Carolina 22: The Panthers kicker, Justin Medlock, was busy this afternoon with five field goals. Field goals being the football world's bridesmaid, the Panthers would lose the game after blowing a 19-7 lead in the fourth quarter when Cam Newton threw a pick-six just seconds after Chicago had scored for the first time since the first quarter.
Here we have an example of a defender, usually tasked with the unenviable job of determining for himself whether a receiver is defenseless or not, clearly making the wrong decision even though everything is right in front of his face. This is clearly a defenseless receiver and the Bears defender could plainly see that he was defenseless right before he decided to launch himself anyway.
Now, after all that serious business, here's Steve Smith successfully performing the tip drill with himself.
Detroit 28, Seattle 24: Matt Stafford out-dueled the rookie Russell Wilson and threw for 352 yards and three touchdowns. The last of those three came with 20 seconds to go in the game to Titus Young who had 100 yards and two touchdowns on nine receptions. But for our GIFing purposes, we have Marshawn Lynch, doing the Beast Mode thing for 77 yards just five seconds into the second quarter.
Miami 30, New York Jets 9: The Jets got beat all over the field in every conceivable way. Offensively, they were pathetic. Defensively, they were pushed around and special teams, sweet mother of mercy were they awful on special teams. Huge kickoff returns, a fake kickoff recovery by the Dolphins and a blocked field goal were all worthy of inclusion here, but this has special teams failure and Tim Tebow failure so here you go. Tebow is the "personal protector" on punt returns and is responsible for picking up would-be rushers. Well, he missed Jimmy Wilson coming up right the middle, opting instead to help out on another block and it turned into a touchdown for the Dolphins.
If things weren't bad enough, the Jets season was given the three-toed sloth kiss goodbye:
Indianapolis 19, Tennessee 13: This is a great toe-tapping catch from Kendall Wright on a 23-yard Matt Hasselback floater. He first gets his left foot down and then drags the right one inside the endzone as his momentum carries him out of bounds.
Not to be outdone in the visually pleasing touchdown catch department, the Colts won the game in overtime on this corkscrew dive into the endzone. The 16-yard play ended a nine play, 80-yard drive. It was the first overtime possession, but under the new overtime rules, since it was a touchdown the game ends without Tennessee possessing the ball.
Atlanta 30, Philadelphia 17: The Atlanta machine keeps on rolling and—ANDY REID LOST AFTER THE BYE. ANDY REID LOST AFTER THE BYE. Oh my god this crazy weird coincidence has finally ended. Matt Ryan was once again lethal with 262 yards and three touchdowns on 20-29 passing. The three touchdowns came on Atlanta's first three possessions and this 63-yard strike to Julio Jones in the second quarter was the last of the bunch.
Green Bay 24, Jacksonville 15: Blaine Gabbert threw for more yardage than Aaron Rodgers and he did not turn the ball over. Yet, they lost anyway. Special teams—a blocked punt resulting in a touchdown—and a failed two point conversion made up the nine point difference in the game. But the Jags did bring some joy to those watching. There is nothing quite like a large man named Whimper tumbling to the ground to catch a touchdown pass. With that in mind, here is a large man named Whimper tumbling to the ground to catch a touchdown pass.
Oakland 26, Kansas City 23: Did you watch? Are your eyes still bleeding? 11 punts and five turnovers. Brady Quinn went 2-4 for one yard and one interception before leaving the game with head injury. Darren McFadden ran for 114 yards—on 29 carries. The teams are a combined 4-10. Because their one win came in overtime, the Chiefs still haven't led for a single second of any game time this year. Fittingly, our GIF is something of a miss for both teams: Sebastian Janikowski kicked a 37-yarder wide right, only to have the play called back for defensive offsides. He hit the 32-yard field goal that resulted, and remained everyone's favorite fantasy kicker (both in the fantasy football sense and daydreaming sense).
New York Giants 29, Dallas 24: Giants went up 23-0, Dallas came back with 24 straight, and the Giants answered that run with six of their own. On the second-to-last drive, with the Cowboys in need of a touchdown, when it seemed like maybe Tony Romo would finally flip the script and lead his team downfield for a last-second miracle, he...didn't do that. He let the Giants' blitz chase him about 25 yards backward, and then he threw an interception after heaving the ball in the air randomly:
But then: redemption? The Cowboys got the ball back and Romo aired it out, only to have Dez Bryant's touchdown catch called out by the slimmest of margins after an official review. Fingertips, literally! At least you could hear those Cowboys fans when the ruling came down.
In the end, the Cowboys' six turnovers killed them, and they wasted Jason Witten's record-setting 18 catch performance. The Giants take a commanding lead in the NFC East, and spend the next few days in Dallas, avoiding the hurricane apocalypse up north. How's that feel, Jason Pierre-Paul?
Denver 34, New Orleans 14: A grim season for the Saints got a little grimmer, as New Orleans fell to 2-5 tonight in Denver. Peyton Manning was too much for a Saints defense that didn't put up much of a fight after...well, at all, but especially after this: Eric Decker caught a 13-yard touchdown pass in the second quarter to kick off a 27-0 run that didn't let up until halfway through the fourth. The final tally was generous to the Saints, who scored in garbage time to make the whole affair a little more dignified. Here's Decker, spiking the football and doing a Mile High leap, in a solid representation of the what the whole night looked like for the Broncos: