Our favorite headline of the month so far comes from Philadelphia, where jockey Victor Molina has been charged with domestic abuse. The victim? His racehorse, whom he kicked in the stomach following a race at Philadelphia Park. The headline? Jockey Short With Horse, naturally.
Well, Molina's punishment came down on Monday, and he's not happy about it. He was suspended for 30 days and fined $1,000 by Philadelphia Park officials. But like most abusers, Molina doesn't think he did anything wrong. Hey, if the horse didn't make me so angry, I wouldn't have to hit it, man. Anyway, I'll never do that again, baby. I promise.
"The kick wasn't what I'm about," Molina said by phone. "The penalty doesn't warrant what I did. I got punished a little harder than other ones. I think most people around the track, if you asked them, would say it was a little too harsh. People in the industry wouldn't judge me the way I've been judged."
And then, toward the end of the story, this chilling sentence: The colt was gelded last week.
Of course Molina's real punishment will come when Leonard Davis hears about this.
G/O Media may get a commission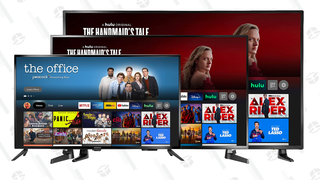 Up to 44% off
Prime Early Access - Insignia Fire TVs
Jockey Suspended 30 Days For Kicking Horse [MSNBC]
No Ruling After Hearing For Jockey Who Kicked Horse [Philly.com]
Leonard Davis Gives A Damn About Your Horse [Deadspin]