Much to our dismay, the final days of the election brought news that famed Twitter personality Donald Trump had his account confiscated as part of his staff's last-ditch effort to maintain some degree of dignity. But you cannot maintain that which was never there. And now, our prayers seem to have been answered: Donald Trump's Twitter privileges are back.
As we all know by now, Trump seems to be the only person on his staff who tweets from an Android phone. And since The New York Times reported that his staff (which is to say, Kellyanne Conway) took away his precious tweets, there had been nary an Android-based tweet at all. But then, at 4:18 p.m. today, November 8, in the year of our Lord 2016, Donald Trump's Android was risen:

G/O Media may get a commission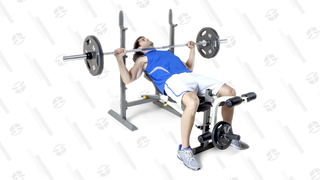 10% Off
Marcy Folding Weight Bench
It's the right voice. The right device. And just the right amount of crazy (weird how Utah controls the entire country's voting machines!).
Our big, fascist boy is back—and just in time. God help us all.