The word hero is thrown around so loosely these days. But the guy who decked a Syracuse lacrosse player who had attacked two random people, then dared the police to arrest him for knocking the guy out with a single punch? Hero. (Police did not arrest him, because he's a hero.)
When the mugshot of freshman midfielder Hayes McGinley was published after his March 14 arrest on two counts of second-degree harassment, we couldn't help but wonder what had happened to his face. Since then, details have emerged to explain at least some of the damage.
According to one of the cookie-store employees McGinley is accused of punching, the trouble started around 11 p.m. Saturday night when she saw someone she didn't know trying to open her car door.
"The guy is pulling on my car handle. I said, 'Don't touch my car. It's a brand new car.' I didn't want it scratched," Kendall Rae Talbot said. "He kept saying, 'This is my ride home. My boys are in there,' and pulling on the handle.

"He was pretty persistent this vehicle was his or his buddies' who were going to drive him home," she said. "He was slurring his words, saying his buddies were waiting for him."
Talbot said McGinley already had the scratches on his neck when she first saw him, so it had clearly been a long night. Talbot claims McGinley then sucker-punched her and a co-worker, and that's when Big Jim Whitcomb got involved.
Whitcomb told The Daily Orange he had just returned from a delivery for his burger restaurant when he saw McGinley hit Talbot. He sprung into action:
"As soon as he punched her in the mouth, I came out from around everybody and punched him in his face and knocked him out," Whitcomb said. "And then as soon as he went down on the ground I went over and I was going to football his face. I swear to god, I don't care, I was going to football his face.

"I don't believe in woman beaters, I don't believe in a man putting his hands on a woman."
G/O Media may get a commission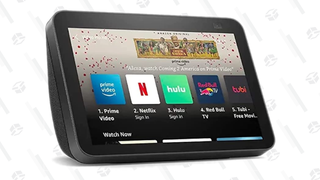 According to police and witnesses, McGinley was knocked unconscious. Police soon arrived and arrested him, before taking Whitcomb's story and contact information and letting him go.
"I turned around and looked at the cop, I said, 'You want to arrest me, here I am, I don't give a shit, arrest me," Whitcomb said.
A police spokesperson confirmed to The Daily Orange that Whitcomb was within his rights to wreck McGinley's shit.
McGinley was suspended indefinitely by Syracuse lacrosse. He's also the nephew of actor John C. McGinley. ("That really bums me out because I really like his uncle's work," Talbot told Syracuse.com. "I used to watch Scrubs after school every day.")
H/t Joe.