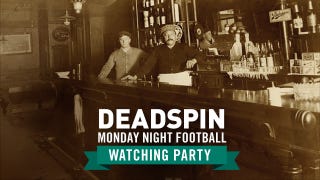 Radar's suspiciously-named Amber Goodhand reached out to Vick's rep for a reaction about the the alleged nudeness: "The only thing Mike has on his mind is his date with the Chicago Bears this evening," his rep Rick French tells RadarOnline.com. Yeah, us, too.
So again:
The Place: Bleecker Street Bar, corner of Bleecker/Crosby btw Broadway and Lafayette.
The Time: 7:30 until the game ends
So come on down! We'll be there. Soonish.
*****
Thanks for your continued suport of Deadspin. Hit it.