Rachael Denhollander—the first woman to publicly say she was sexually abused by Larry Nassar, the former physician for the U.S. women's gymnastics team—testified today at a preliminary hearing in a Michigan court.
Jokic? Embiid? The NBA MVP is obvious... right? | Keep it a Buck(et)
During today's testimony, Denhollander recounted again the abuse she suffered when she was 15 and sought out treatment for back pain at Nassar's Michigan State sports clinic office. She also explained how the trauma affected every aspect of her life and stayed with her—even casting a shadow over the birth of her children—all while she felt nobody would believe her if she came forward because Nassar was so beloved.
Two more people, a woman and a teenager, also spoke but were identified as Victim G and Victim D. The hearing was to determine if there is enough evidence for the criminal case to go forward.
More than 80 women and girls, most of them gymnasts, have told law enforcement that Nassar abused them under the guise of medical treatment. Nassar is charged with multiple counts of criminal sexual conduct in Michigan; he has entered a plea of not guilty.
G/O Media may get a commission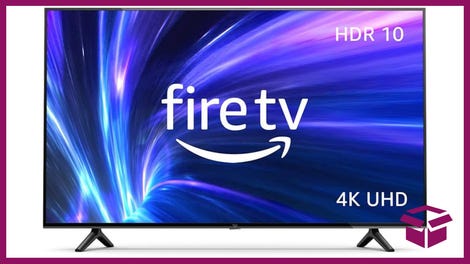 42% Off
Amazon Fire TV 50" 4K Smart TV
Nassar was well-known and respected in the gymnastics community, and he was reputed to be able to do things that other doctors couldn't do when it came to pain relief and rehabilitation. Over the course of five visits, Denhollander said Nassar digitally penetrated her vaginally and rectally. Her mother was in the room, but Nassar had positioned himself so her mother's view was obstructed. She said that he also massaged her clitoris. Denhollander said that Nassar treated her without gloves and that he used massage cream as vaginal lubricant. He moved without hesitation, she said, and that it seemed like he something did on a regular basis.

At various points during treatment, she said Nassar whispered near her ear, "Does this hurt you Rach? Am I hurting you?" But she didn't complain, Denhollaner said, because she was embarrassed and didn't want to call attention to what was happening to her.
She was left confused by her first few visits to Nassar, Denhollander told the court. She had heard from a family friend that in certain situations pelvic floor work was justified, so she assumed that what she was experiencing was somewhat similar and legitimate. This changed during the final visit. During the fifth round of treatment, Nassar unhooked her bra and rotated her onto her side. She saw that he had a "visible erection" and he was breathing heavily.
"He put his palm on my breast and then kept it and then squeezed and massaged it in a circular motion," Denhollander said.
When asked what her reaction was to Nasar's action, Denhollander answered that she froze. "I knew it was sexual assault."
Denhollander said she tried to rationalize what had happened based on her limited understanding of pelvic floor work and its applications; but there was no rationalization for him fondling her breasts while he had an obvious erection. She also made it clear that she hadn't been diagnosed with any rib conditions and he was not touching her ribs.
Living with the trauma
She told her mother what had happened over time bits and pieces. Denhollander and her mother consulted physical therapists for information. When, a few years later, she visited a physician's assistant who worked at the OB/Gyn office, she brought up what had happened to her when asked about her sexual history. Denhollander, at that time, was a virgin.
"I was concerned that I would not appear physically to be a virgin because of the penetration," she said, "and I didn't want it to appear that I was hiding anything from her."
She didn't tell the physician's assistant Nassar's name, though she did say he was an osteopathic physician who worked at Michigan State. The physician's assistant gave Denhollander forms to report Nassar to the medical board but she didn't go through with it because she learned she couldn't report it anonymously.
"At that age, I was not ready for this," she said.
Denhollander also tried bringing what happened up with a coach at her gym, she told the court. Denhollander was dabbling in coaching and one of her young gymnasts was suffering from hip pain. The coach wanted to send the girl to Nassar for hip treatment, and Denhollander felt that she had to step in and stop it.
"I felt at that point that I had to at least try," she said. "I had to get someone to believe me because I couldn't live with that happening to a little girl."
Denhollander said that she met with the coach and told her that Nassar had sexually abused her when she sought treatment from him. The coach called Denhollander's mother, who also recalled Nassar's erection during the visit. The coach asked her husband, a police officer, to look into whether anyone else had filed any complaints against Nassar. The officer didn't find any.
The coach asked Denhollander how she could have let this happen to her. While Denhollander said she didn't think the question was malicious intended, it sitll was crushing.
"The questions that she asked are the same questions that haunted me when I laid down every night and to have that verbalized and to [have] communicated that my word wasn't good enough to keep a little girl out of a pedophile's exam room," she said. "No one was going to listen. There was nothing I could do to protect that little girl."
The girl, Denhollander later learned, visited Nassar just once.
Denhollander said the assault continued to haunt her, especially right around her 25th birthday.
There was a huge weight over my 25th birthday because I had looked up the statute of limitations and, at the time I had looked it up, they had not been removed yet. And I knew that I had 10 years from the date of the sexual assault to report.

Before my 25th birthday, I sat up all night and considered whether or not there was any chance of being believed and when I woke up that morning, the first thing in my head was, "I've lost the chance. I can't stop him now."
Deciding to come forward
It wasn't until years later, when she read the Indianapolis Star's investigation into USA Gymnastics' mishandling of sexual abuse allegations against coaches, that she decided to come forward.
When asked by the prosecutor how Nassar's sexual abuse affected her, Denhollander said that it has impacted every aspect of her life, from her relationship to her husband to her job to being a mother. She explained that it wasn't until shortly before she was engaged to her husband, the first man she ever dated, that was she was able to tell him she trusted him.
"I couldn't bring myself to say those words," she said. Physical contact was also difficult at first. "The first time we held hands, it was very frightening for me. Not because there's anything sexual about holding hands [but] because it was giving access to you physically." Denhollander was also anxious about telling her husband about the assault. "I was concerned that he wouldn't be able to handle it. I was concerned he would see it as my fault because I hadn't fought back."
Denhollander said that Nassar's abuse cast a pall over the births of her children. Though her obstetrician was female—she said that because of Nassar's assault on her as a teen, she will only go to female physicians if possible—she had no control over the gender of other hospital staff that could be in the room at any given time. "The shadow that was cast over the births of my children, what should've been one of the most joyous events of my life was very significant," she said.
Her professional life was affected too. Se gets nervous in close quarters around male coworkers under the most innocent and ordinary of circumstances, Denhollander said, such as in the copy room.
Coming forward has not been easy on Denhollander. "It's been hellish," she said. "The only thing worse than sexual assault is having an audience to it."
Yet she felt that it was imperative that she, not only come forward and speak to the Star and report her assault to police, but that she be named in that complaint. Several women who have made allegations against Nassar have since allowed themselves to be identified, but Denhollander was the first to be public about it. "Larry Nassar was in such a position of authority and he was surrounded by such powerful institutions that I was confident that an anonymous voice would not be enough," she said.
During cross examination, the defense attorney tried to get Denhollander to say that Nassar's "treatment" were legitimate and useful. "I think it's fair to say that sexual contact does not heal a back injury. I have sex with my husband and I still have my pinched nerve," Denhollander said.
More women speak out
After Denhollander testified, two more people took the stand to testify about how they say Nassar abused them as well. Neither victim wished to be publicly identified, and one is a minor. Reporters in the courtroom were not allowed to identify them. The first to go after Denhollander was described as Victim G.
"I cried the whole way"
The last person to speak was a teenager. She went by Victim D.
At one point the judge stopped the hearing because he had learned that the NBC affiliate hadn't shut down its livestream, which had been up through Denhollander's testimony, and certain identifying information about the victim had come out. They were forced to leave the courtroom. The hearing is scheduled to continue on Monday with more women called to testify against Nassar.