I very much enjoy this photo, taken just as Cairo Santos banked in the 34-yard, game-winning field goal off the left upright, because no one's really sure if it was good or not. The reactions run the gamut, from No. 76's Laurent Duvernay-Tardif's two-fingered exultation, to Santos's uncertainty, to No. 72 Eric Fisher's full-on Surrender Cobra.

Jokic? Embiid? The NBA MVP is obvious... right? | Keep it a Buck(et)
Even in this GIF of the play, some Broncos players begin to celebrate (what they thought was a tie game), and you can see Chiefs holder Dustin Colquitt drop his head in disappointment.
Only one of the officials stationed beneath the uprights raised his hands, and the Denver crowd cheered its head off (again, for what it thought was a tie game), but eventually, everyone figured it out.
"People just started grabbing me and saying 'You made it, you made it,'" a jubilant Santos said afterward.

G/O Media may get a commission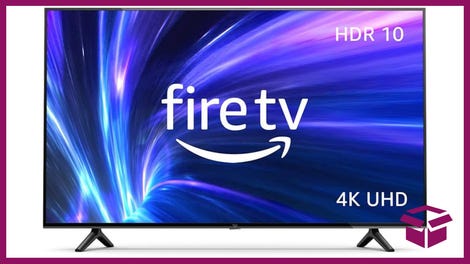 42% Off
Amazon Fire TV 50" 4K Smart TV
"Where I come from," the Brazilian-born Santos said of his shot in off the post, "those are the prettiest goals."
What a game. The Chiefs' 30-27 win started as the slapfight/slog we all feared when the NFL flexed this into primetime just to get the Jets out of America's face, with Alex Smith and Trevor Siemian competing to see who could be more futile in the face of intense pass rushes. (Smith was by far the less effective; the Chiefs had just 49 yards of offense at the half.)
But if you didn't give up and go to bed, you got to see things turn weird. Perhaps because the defenses tired, the teams started trading touchdowns, and eventually the Chiefs found themselves down eight, with 75 yards to go in three minutes with no timeouts—because they had burned their final two on the Broncos' previous drive. Some things never change.
Yet Smith and the Chiefs tied it up on a 13-play drive capped off by a touchdown to Tyreek Hill with 12 seconds left, and a successful two-point conversion on a play drawn up for TE Demetrius Harris, who has struggled with dropped balls all year. Hill, who scored on a catch, a rush, and a returned free kick, became the first NFL player since Gale Sayers in 1965 to complete that trifecta.
The teams traded field goals to start overtime, and looked like they might be bound to end in a tie, which would absolutely have been the most fitting conclusion to this game. But facing a fourth-and-10 with 1:08 left in overtime, Denver elected to let Brandon McManus attempt a 62-yard field goal for the win, when a punt could have pinned KC back and all but ensured a tie.
McManus, whose previous career high was 57, but has reportedly hit from 70 in practice, was wide left and well short.
"It's on me," Gary Kubiak added. "I just gave him a chance, thought we could do it, but we didn't get it done. Give them credit."

I don't mind letting McManus take the shot, especially not in the thin Denver air. But if Kubiak had a long field goal in mind, I think he can be criticized for not running the ball on second and third downs and trying to pick up a few more yards to make McManus's life a lot easier.
Kubiak could have played for the tie, and instead went for the win and took the loss. And with that, the defending Super Bowl champs are a game back of Kansas City and currently outside the AFC playoff picture. There are still five games left to play, so a lot can happen between now and then (including a rematch on Christmas night in Week 16), but when it's all said and done there's a decent chance last night's final two field goal attempts will loom large.