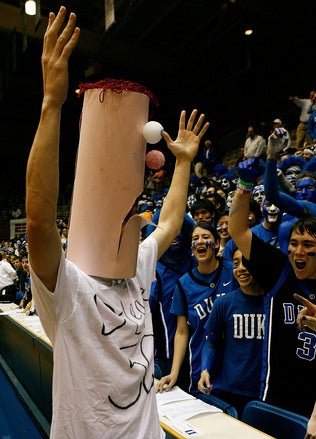 I'm not sure exactly how the whole Tyler Hansbrough-as-a-Muppet phenomenon got started, but Duke fans took it to a new level last night.
The Cameron Crazies think that Hansbrough looks exactly like Beaker, and who am I to argue? According to the Charlotte Observer, this guy even made some of the North Carolina players crack up last night when he paraded near their bench (that's 'D League' written on his T-shirt, with Hansbrough's number). It has all backfired for Duke, however: Thus enraged by the mockery, Hansbrough saves his best efforts for games at Cameron. He's undefeated there in four tries.
Also humorous: Roy Williams as Dr. Bunsen Honeydew.
From Beaker's Wikipedia page: In a 2004 Internet poll sponsored by the BBC and the British Association for the Advancement of Science, Beaker and Dr. Bunsen Honeydew were voted Britain's favourite cinematic scientists. They beat Mr. Spock, their closest rival, by a margin of 2 to 1 and won 33 percent of the 43,000 votes cast.
Cameron Crazies Take Aim At Hansbrough [Charlotte Observer]