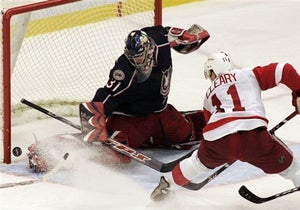 Yes, The Basketball Jones podcast often tells hockey to "go to hell." Guilty. But let's make one thing very clear — I don't blog on these here Internets for the money or the fame or the chance to add "Deadspin, Weekend Editor" to my Gmail signature (which is awesome, by the way). I write for the people. And the people love the NHL Closer. So here ya go, you puck-heads.
• I Can See Cleary Now. Dan Cleary scored twice, one wearing a visor, to help Detroit tie a franchise record with its ninth victory in a row. Henrik Zetterberg scored his 13th goal of the season with 1:28 left to extend his season-opening points streak to 16 games. Wings 4, Jackets 1.
• In District 5 Peewee Hockey News. The Ducks Andy McDonald scored the tying goal with EXACTLY 14:04 left in the third period and beat Evgeni Nabokov again for the clinching goal in the shootout to give Anaheim the 3-2 victory over San Jose. No word on whether McDonald went with the Bombay "triple-deke." Sharks center Jeremy Roenick played 22 shifts totaling 17 minutes, but remained stuck on 499 career goals.
• Atlanta's Mascot Should Be Dexter. Russian star Ilya Kovalchuk scored his eighth goal in his past four games as the Thrashers beat the Panthers 4-1. The goal was Kovalchuk's 14th of the season. Rookie goalie Ondrej Pavelec — these names are incredible — stopped 36 shots in only his third career start.
• How Bizarre. Andrew Raycroft — who is in no way related to my friend Ben Rycroft because their names are actually different — made 30 saves in Toronto's 3-0 win over Buffalo. The Leafs, last in the NHL in goals against entering the game, won for the second time in three games. They're probably going to win the Stanley Cup.