When Marathon Petroleum received a $175 million tax break from the city of Detroit in 2007, they promised jobs for Detroiters. And, as of last January, the $2.2 billion expansion of Marathon's refinery on the city's southwest side had, in fact, created new jobs for tax-paying residents —all of 15 of them.
Now, members of the Detroit City Council want to pass an ordinance that will hold developers seeking public money accountable: They'll have to work out a community benefits agreement (CBA) with community leaders. A CBA is a legally binding pact covering everything from local hiring requirements and environmental concerns to redevelopment of public space and infrastructure. It's a way to assuage the fears of current residents wary of displacement and change and ensure the public's money is put to good use. It would be the first law of its kind in the country.
"We are allowing these large corporations—companies that could build a hockey arena without our money—to get in the corporate welfare line and take resources away from us," Rashida Tlaib, a Michigan state representative who serves Detroit, told me. "In exchange for what?"
The hockey arena Tlaib mentioned is for the city's beloved Red Wings, owned by pizza baron Mike Ilitch. The Ilitch family, whose net worth is estimated at $3.2 billion thanks in part to their Little Caesars pizza empire, received $284.5 million in public money to build a new, $450 million arena in the city's Cass Corridor neighborhood. (They are desperately and vapidly rebranding it as the "arena and entertainment district.")
While the Ilitch family was finishing up its honeypot stadium welfare deal last year—not to mention a wildly below-market rate $1 land transfer for 39 vacant parcels—they refused to sign a CBA that would ensure a certain percentage of permanent, non-construction jobs at the arena went to Detroiters. A group of locals formed the Corridors Alliance in an attempt to engage with the Ilitches, but their efforts were futile. The Ilitches did, however, agree to a mayoral executive order that demanded 51 percent of construction jobs go to residents and 30 percent of construction contracts go to local businesses. (The mayoral order, like Marathon's hollow promise, is not legally binding.)
G/O Media may get a commission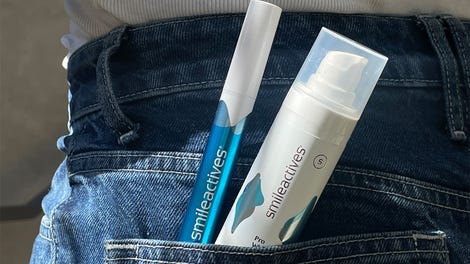 58% off
Whitening Powerhouse Pen & Gel Duo
Los Angeles set the model in 2001 when the Staples Center signed a comprehensive CBA that provided $1 million for neighborhood park improvements, required HR to target residents displaced by the development for hiring, and invested in job training programs, among other concessions. In Pittsburgh, a CBA ensured jobs for the Consol Energy Center and a new hotel nearby went to locals and minority workers—and, as of 2011, 47 percent of the 522 new jobs went to minorities.
The proposed ordinance in Detroit would take what Los Angeles and Pittsburgh have done a step further. It would require developers to engage in a CBA. Under the most recent draft of the ordinance, any project totaling more than $15 million in investment (or $3 million in renovation or expansion) seeking at least $300,000 in public tax dollars—from tax abatements to land transfers—will have to enter into a community benefits agreement. Developments between $3 million and $15 million are encouraged, but not required, to execute a CBA. Developments funded entirely by private money are exempt.
Business leaders—no surprise!—are pissed. It's another hurdle, they say. Just more red tape, they scream! In October, Rodrick Miller, president and CEO of the Detroit Economic Growth Corporation (DEGC), wrote an irritated and bullying letter to City Council expressing his true feelings.
"We know from years of recruiting companies that Detroit still has big obstacles to overcome related to costs, image, and workforce to compete against other cities and our surrounding suburbs," he wrote. "If we raise the height of the barriers with Community Benefits Agreements we will simply have to pay more in public incentives to get businesses to jump over them. We can't afford that. Isn't it more cost effective to lower those barriers?"
It's worth noting here that, despite Miller's ham-fisted fear mongering, CBAs in no way require more public incentives. At no point does he say how or why a CBA for a large development requesting large sums of public money would need even more public money because they have to talk with locals about possibly hiring them.
But Miller, who did not respond to multiple requests for comment, writes as though he's trying to instill doubt and unease into locals with lines like "a community benefits ordinance is bad public policy." He paints all neighborhood leaders with broad brushstrokes when he says, "this ordinance quietly passes the fiduciary responsibility of elected leaders to community members who are not officially accountable to anyone and whom may or may not appropriately represent the public."
Miller's not alone in his thinking, though. I've been told folks in City Hall are afraid that the ordinance would cede the power of publicly elected officials to locals. Given the history of Detroit's public leaders, that wouldn't necessarily be a bad thing.
The opposition made it all the way to the state capitol in Lansing during December's lame duck session, where Republican State Representative Earl Poleski introduced House Bill 5977, which would "prohibit local units of government from creating a 'community benefits ordinance.'" The bill, which died in December and was reintroduced in January, would ban Detroit's proposed ordinance outright.
"House Bill 5977 sets up the state as a dictatorship telling local units of government that they cannot do what is best for their community, workers and residents when it comes to wages and benefits tied to economic development in that community," Tlaib said in a statement.
I should also mention that the Detroit Regional Chamber Political Action Committee donated money to Poleski's reelection campaign last summer, according to Secretary of State disclosures. And while it was a paltry and deeply stupid check for only $250, it's worth asking why the Detroit Regional Chamber is propping up a state representative from Jackson, a county 80 miles west.
But Detroit councilmembers, community organizers, and activists remain unfazed. "I don't want to hurt development in this city, nor do I want to hurt the same faces who voted for me," City Council President Brenda Jones said at a Nov. 14 meeting. Over the years Detroit has dealt with developers who, Jones said, could "care less about the citizens."
"The only thing they care about is their development and the money they're going to make from that development, and what the city is going to give them for those developments," she said. "We're trying to make sure that after I'm gone, after you're gone, after this mayor is gone, that those developers hold up to what they tell those citizens they're going to hold up to."
And in the Delray community on the city's southwest side, where a $2.1 billion international bridge is set to displace about 900 residents, community leaders have been shut out of any potential CBA. In September, Kevyn Orr, the city's emergency manager—essentially a state-appointed lackey who handled most of Detroit's day-to-day operations until this past August—overruled City Council to sell 301 Delray properties to the state for $1.4 million. Community leaders have asked that some of that money be reinvested in the Delray community for public space improvements, diesel pollution mitigation (the traffic to and from Canada will be largely industrial), and fixing streetlights. Mayor Mike Duggan, Tlaib and others feel, is against the money being poured back into Delray.
"People focus often on the jobs," councilmember Raquel Castaneda-Lopez, who represents Delray, said. "But community benefits is not just about jobs. It's about potential environmental impact, like truck traffic. Ultimately the impact might not so much be in terms of jobs but in terms of noise and sound pollution or whatever exactly the specific development's issue is."
Jobs are, though of paramount importance. "There should be an expectation that if you come to do business in Detroit and you are requesting some type of public subsidy that meets a certain threshold you know there are implications that Detroiters will be hired for that project," councilmember Scott Benson, who wants the threshold raised to $100 million, told me.
With the recent flurry of reinvestment in Detroit, city residents just want their voices heard. "There has been relatively so little development in Detroit over the last 50 years that I think people have sort of forgotten what that even feels like," Francis Grunow, who is on the steering committee of the Corridors Alliance, said. "It might help lay the groundwork, because city government is going through so much flux with the bankruptcy. Everything is sort of in turmoil right now, I think that something like an ordinance can help align development and community interests."
If the bill is passed, it could open the gates for other cities to get more out of their obscene investments in stadiums for privately held sports franchises. City officials often encourage developers to explore CBAs—Cleveland Mayor Frank Jackson has explicitly endorsed them—but no city has made them a legal requirement. And while many developers and politicians in American cities want fewer regulations and oversight, CBAs are less about red tape and more about creating equitable neighborhoods.
Grunow feels the time could be right to implement new business practices in the Motor City. "Our local government has been gutted and disempowered through the bankruptcy and emergency manager," he said. "So a planning department that has historically been part of this process has really not been able to do community development interface in a very robust way." The prospect of a CBA ordinance, everyone I spoke with said, would give residents a seat at the table.
In the meantime, Ken Harris, president of the Michigan Black Chamber of Commerce and a lifelong Detroiter, just wants developers and businesses—like Marathon Petroleum and the Ilitch family—to be held accountable. No more false promises—he wants it in ink.
"I appreciate the handshake, but give me more than a handshake," he said. "I need jobs and I need an opportunity for my business to grow so that I can hire people who live with me in the neighborhood."
Photo of Detroit pizza/sports magnate Mike Ilitich by Carlos Osorio/AP