And if you're really witty you might notice that I share a first name with Clay Aiken. Wow, that's hysterical. Awesome, thanks for pointing that out. And that I share a last name with Randy Travis. Great, I'm doubled over with glee. Your comedic stylings know no bounds. By the way, the hot LSU golden girl, just further evidence that you made a mistake when you didn't come South for college. Or life. Now, here's a rough bit about me.
I like SEC football and basketball, apostrophes in names that don't require apostrophes, making it rain, lawyers who claim to love the law, Civil War history, golf, college sports in general, drinking to excess, spumoni ice cream, Christian Okoye on Tecmo Super Bowl, amateur pornography (the love of the game factor), wiffle ball, pink dolphins, beards getting it done (BGID) and giving out my beaver pelt trader of the week award.
I do not like fat girls from Florida with bingo wings, people from Long Island, 'Bama Bangs, Georgetown University, the major league baseball regular season, goatees, the NFC East, billable hours, old white men who claim that writing about sports is hard, or Jim Rome.
George Washington undergrad, Vanderbilt for law school. Lifelong University of Tennessee sports fan. As you'll find out from my posts, one of the many ironies of life in the South is that despite the vast majority of the population that doesn't go to college, college sports are much more popular than professional sports down here. Author of Dixieland Delight and co-author of Man: The Book. For the past three years I've been writing the ClayNation column over at CBS. I live in Nashville with my wife and son and this fall I'll be working on a book about the 2008 Tennessee football season tentatively entitled, On Rocky Top. My goal is to bring some SEC quality speed to Deadspin. And by SEC quality speed, I mean a 6.16 forty
G/O Media may get a commission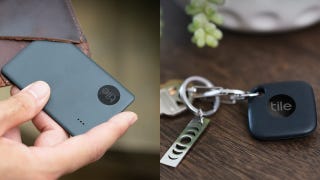 Up to 35% off
Tile Item Trackers
Now, let's be friends. After all, I'd like to dole out a nice titty fuck in the morning right now just as bad as y'all. But instead we're all sitting in front of our computer screens. See, we're not that different, you and me, not that different at all.