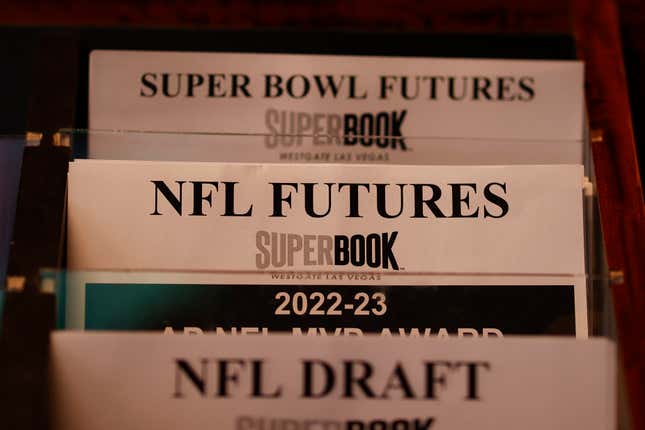 The current handling of sports gambling in this country is American exceptionalism at its most American. Investigations, or suspensions, are cropping up almost weekly, but due to the nature of the violations, or the parties involved, nothing has seriously resonated. One offensive lineman didn't know he couldn't bet at work, Calvin Ridley was injured when he made the wagers, another instance involved a college baseball coach, and now it's just a dozen Iowa and Iowa State football players.
Should the NFL relax its gambling policy? | Agree to Disagree
Of course, there's no way this problem goes any higher, or will ever affect the outcome of an actual meaningful game, because these are just outliers. It's not seeping into the highest levels. How could it? The United States of America always takes necessary precautions, and takes cues from other countries who have had issues with match fixing.
Um, sure.....
And, don't worry, the various bans on sports gambling advertising in the UK and other European countries needn't apply to us. Our sportsbooks know a thing or two about decorum. Never mind that gambling companies are fully aware of the regulations across the pond, and very much want to avoid them coming to our shores.
American pro sports leagues and a couple of media companies went as far as to create a coalition to make sure ads are targeting an appropriate audience. The infrastructure and disclaimers in place are more than enough to forge ahead. Those revenue streams aren't going to tap themselves.
Of course, that's all BS
There are many reasons the investigation into gambling among Iowa and Iowa State football players is so alarming. It's not simply that a few of the players in question are starters, or that they bet on games they were involved in, or that underage athletes easily found ways to place bets on DraftKings, but it's the frequency with which the bets were placed, and the relatively small sums of money.
ISU starting running back Jirehl Brock allegedly made more than 1,300 online wagers, totaling more than $12,000. Former Iowa player Arland Bruce IV bet 132 times, totaling more than $4,300. These kids were easily tempted by a few thousand dollars, and bet at a rate that can only be described as Phil Mickelson-esque. That speaks as much to an addiction problem, as a character problem.
According to Thursday's complaint, four more Iowa State players and three more Iowa players face the charge of tampering with records for allegedly concealing their identity in online wagers. The aggravated misdemeanor carries a sentence of up to two years in prison, and a fine anywhere from $855 to $8,450.
The more malfeasance is uncovered during this investigation, the more questions should be asked of Hawkeye head coach Kirk Ferentz, and Cyclones skipper Matt Campbell. A lack of institutional control has led to coaches being dismissed before, and more than a dozen athletes have been charged, including Iowa State's starting QB.
I know the death penalty is rarely, if ever, used in college athletics, and self-preservation will prevent the NCAA from ever levying one again, but I'm at a loss as to who to punish, or how to punish them. Obviously, there's a very real fate awaiting any player found guilty, yet if it's this endemic, there's a degree of negligence from people in power.
What happens to a school if their unpaid workforce carries out a scheme far more sinister than using your mom or fiance's DraftKings account? Don't underestimate the resourcefulness and stupidity of 18 to 20-year-old kids, or how easy it is to succumb to immoral actions in an industry as corrupt as college athletics.
Eventually, one of these scandals will shake American sports to its core and away from its arrogant views toward sports gambling. We're already miles past the feet-dragging phase of this problem, and every day the gaming industry goes unchecked is a day its power grows.