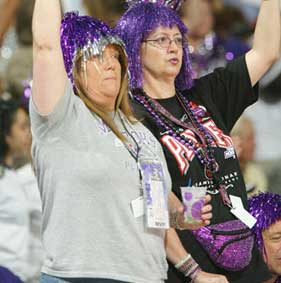 We understand that the WNBA is doing everything in its power to increase its fanbase or, more accurately, survive. One of the keys to this: Making sure "mainstream" media outlets cover the team in their pages. But team public relations people can only do so much. Enter form letters fans can send to their local newspaper editors.
WNBA fans — on the official league site! — are encouraged to send the following note to their local editors: Dear Editor, As a passionate fan of the Washington Mystics, I am writing to urge you to include more coverage of my favorite WNBA team in your paper. The WNBA is an important sport and I would love to read more about the team, players and entire league this season.
Thanks.
Sincerely,
Your Name
One of the targets of the campaign, The Washington Times, has taken considerable amusement from the campaign, perhaps not surprisingly. We look forward to receiving some of these emails ourselves; nothing says passionate fan fervor like a form letter.
Attention Mystics Fans: Send In Your Letters Now [WNBA]
Passionate Fans Hit "Send" Too Soon [Washington Times]