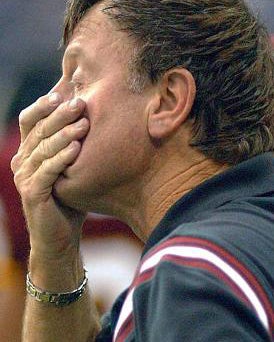 College football players seem to be having a tough time navigating mopeds and scooters. Last year, there was the Kentucky running back who broke his arm during an accident, followed by the Iowa lineman whose frightening crash into a truck was captured on video. Then came Georgia, where coach Mark Richt made it clear he has no plans to ban the use of scooters even though two players this summer have gotten hurt while riding them. And now there's South Carolina, where coach Steve Sprurrier revealed today that third-string quarterback Andrew Clifford had to be taken to the hospital over the weekend after crashing his moped.
Then again, there's another detail about Clifford's crash that clearly distinguishes it from the others.
Spurrier said the redshirt freshman was not wearing a helmet and was carrying a pizza at the time of the accident.
The crash resulted in Clifford having to "get stitches," according to the WISTV report. There was no word on what happened to the pizza.
USC QB Wrecks Moped While Carrying Pizza [WISTV.com]