Make no mistake about it: National Hurricane Center Deputy Director Ed Rappaport set a very high bar for Hurricane Irene dong submissions. In fact, tipster Brian simply wrote, "The end."
It was unclear whether he meant the storm would be the end of the Eastern Seaboard or that the dong competition would provide no match for good old Ed Rappaport. If Brian was going for the latter, well, he was probably right. But we should post also-rans anyway, no?
James M. wasn't content to just email, "NYT has a Category 5 Hurridong on the front page right now." James M. felt it was necessary to add on-graphic commentary. Which was a nice touch.
G/O Media may get a commission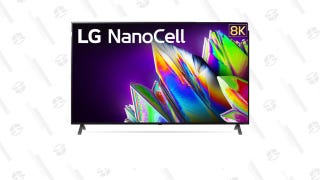 LG 75-Inch 8K TV
At 10 p.m. last night, Justin P. reported that "the dong has gotten larger."
Around 1 p.m. today, Adam Y. dispatched a shot of Fox News's token "unshaven guy who believes weather exists."
A half hour later, Jamie wrote in to explain they're "watching intently as Hurricane Irene moves up the East Coast & we have spotted Hurricane Irene dong. Either that, or the winds are so rough that men's shorts are being blown off. Thanks Weather Channel!" Several of you cheeky tipsters have sent video of said event in, too. Nope. Not posting it.
Adam M. sent in this report from the Beetlejuice afterlife-reception waiting room.
Joshua M. would like to draw your attention to the graphic shorthand-titled "cumwind" on Weather Underground. "Any dork in a storm," he writes. "You have to imagine Hispaniola as the beanbag, and the Bahamas as veins."
Extending this feature's reach beyond mere dongs, LG provided this photo which he (she?) interpreted as "NASA program produces giant nipple courtesy of weather.com."