You may have checked out of baseball once your team's season turned into a trash heap, but that's okay! You've come back just in time for the best month of the year, as all the highest-stakes games with top-quality talent begin. Here's a guide to the NL players you need to pay attention to as the postseason begins.

Kenley Jansen
If closing somehow didn't work out, Jansen could have found work as as a horror movie villain, one who tortures his victims by telling them the exact way they're going to die—three cut fastballs, maybe four on a bad day—then letting them helplessly suffer through. He is by all accounts a good and not at all sadistic character, but there's no evidence of this on the mound. Jansen throws one pitch, a fastball that darts at just the moment when hitters commit to swinging, and that's cruel enough.
The 30-year-old Jansen posted a microscopic 1.32 ERA with an implausible 14.36 K/9 in 2017; unlike most pitchers with overpowering stuff, he also has impeccable control. This season, Jansen notched 51 strikeouts before recording even a single walk, and finished with a ratio of 109-to-7. He relies almost entirely on a nasty high-spin cut fastball that reaches the high 90s. Despite his predictability, that pitch is nearly impossible to hit. This is because the pitch is nearly impossible to hit: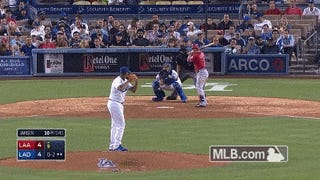 At 6-foot-5 and 275 pounds, Jansen's imposing on the mound, and he's not afraid to speak his mind in the clubhouse. After signing a big contract this past offseason, he followed through on his bold goal of being to the L.A. bullpen what Clayton Kershaw is to the starting rotation. As it turned out, this was not an academic thing; the Dodgers had the best record in baseball, but scored the fewest runs of any playoff team. Without elite pitching, none of this works. Only Cleveland surpassed the Dodgers in ERA and FIP; among Dodgers pitchers, only Kershaw surpassed Jansen in WAR.
Jansen only pitched in 68.1 innings this year, but just about every one of those outs was impeccable. This is what makes him such cruel fun to watch: Jansen's cutter is the show, and the rest fades into inevitability and context. The end is already near; the fun is watching it happen.
Kyle Schwarber
There are moments when watching Kyle Schwarber is like watching Chris Farley, in the sense that it amounts to watching a beefy lad take a fully committed pratfall. At other times, however—in about 20 percent of his at-bats, as it happens—Schwarber puts his Gashouse Gorillas frame to work, with he result being a mighty blow that leaves crowds awestruck. He is both those players. That's the fun of it.
Schwarber has had the most up-and-down year of anyone on this list. Schwarber played a key role in the team's postseason runs in 2015 and 2016, smashing five homers as a 22-year-old in 2015, then going 7-17 in last year's World Series win. The beefy lad followed all that with an atrocious start to his 2017 season, bottoming out with a .171 average that led to a short stint in the minors in June.
To say that Schwarber has turned it around in the second half of the season would be a bit of an overstatement, but he is entering the postseason playing his best baseball of the year so far. Schwarber put up an OPS of .954 for the month of September, and snuck above the Mendoza Line in the process, finishing at .211 with a relatively respectable OBP of .315. None of that looks terribly impressive, but there is also the sheer fact of this huge dude, and his ability to make mistakes disappear in a blink.
Schwarber is the ultimate high risk/high reward hitter—the kind who barely has more singles (42) than home runs (30). He's large and imposing and strikes out a ton, but he's also the Cub hitter who holds the most raw, game-changing power. Schwarber could completely bomb in the postseason, or he could shine as he has in his last two performances. Whatever he does in October—failure or success—it will likely be spectacular and extreme. It's all he does.
Ryan Zimmerman
A first-round draft pick in 2005, Ryan Zimmerman has played in every Nationals season since they moved to D.C. from Montreal. Because of this, he still has as many last-place finishes as playoff wins. Zimmerman is a fan favorite almost by default, as there is no one who is more closely aligned with this team than him. This year, he cemented a place in Nats/Expos history by moving ahead of Vlad Guerrero as the franchise's all-time home run leader and setting the franchise's RBI record, but his place in team lore is already secure. No National will ever be more National than him:
The surprising part here is that, this year, Zimmerman has delivered much more than nostalgia. Bizarrely, 2017 might actually be his best season yet, as he's set a new career high in homers while batting over .300 for the first time since 2010. After injuries shortened his last three seasons, Zimmerman is finally healthy again, and when Bryce Harper was out of the Nats' lineup for 41 games, he was the team's most powerful slugger. It's an honor Zimmerman hasn't held since the team was, well, bad.
Harper is still the superstar, but along with Anthony Rendon and Daniel Murphy, Zimmerman forms a sturdy backbone on a team trying to get over the hump—or, at the very least, win a playoff series for the first time. A healthy Zimmerman would argue that it's too early to talk about storybook endings, but after doing pretty much everything there is to be done in the regular season, October is the last month for Zimmerman to conquer. It would be fitting if he were the first Nationals player to truly figure out the postseason.
Charlie Blackmon
Charlie Blackmon doesn't do anything halfway. He'll stretch triples into homers, crash into the center-field wall for a catch, and get himself ejected in a tight game if he doesn't like the strike zone. "Chuck Nazty" is intense.
If the Rockies are able to stick around in these playoffs, no player will be better poised to go from regional hero to national star than Blackmon. A solid enough player in his youth, Blackmon became a dark-horse MVP candidate after turning 30, and has committed himself to a newly shaggy aesthetic over those two seasons.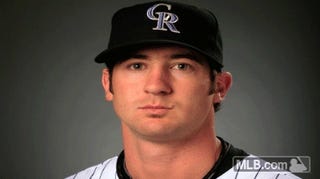 Blackmon has become a cult hero for both on- and off-field reasons since debuting with the Rockies in 2011. He's an outdoorsman who fishes for trout and has backpacked through Europe, and he still drives the same 2004 Jeep that he had in high school, even when the gas tank is running a little too low.
On the field, Blackmon is the Rockies' undisputed leader, with an NL-leading batting average, an OPS of .exactly 1.000, and a solid glove. After taking a bit of time to really establish his talents, Blackmon is now peaking right as the Rockies are better than they've been at any point in his career. It says a lot about the Rockies that "better than they've been at any point in his career" means "favored to lose their wild-card game," but if the Rockies can keep their October alive, Chuck Nazty is the sort of player who could wind up winning over a lot of fans.
J.D. Martinez
Arizona's marquee midseason acquisition is a home-run machine, and "Just Dingers"'s power production somehow seems not to have peaked. Martinez, who we already swooned over last week, has 45 dongs through just 119 games this season (he missed the start of the year with a foot injury), with 16 homers in the month of September alone and a HOF-level season OPS of 1.066. In a lineup that's built around mega-stud Paul Goldschmidt, Martinez is currently the hitter who needs protecting. He's been that good.
To pick an example at random, Martinez has already hit four homers in a game against the Dodgers. That would be the team the Diamondbacks would face if they won their one-game wild card against the Rockies.
J.D. has also taken a winding route to get to these playoffs. He was bad enough at the start of his career to earn his release from the Houston Astros when the team was in full-bore tank mode. After back-to-back negative-WAR seasons, the move almost made sense. But the Tigers took a chance on him, and in Detroit, he shined as both a power and contact hitter for three-and-a-half seasons. When the Tigers fell apart, they flipped Martinez for some prospects. He's since homered once every 11 or so at-bats, and generally become one of the best mid-season pick-ups of all-time.
The bad news: Martinez and Goldschmidt are the only two bright spots of an otherwise pretty anemic Arizona batting order. If the D-backs find success in these playoffs, it will be because J.D. keeps pulling his "Kid Who Only Hit Homers" tricks.

They're a long shot, in other words, which makes them perfect for Martinez. He's a player who has been dumped by the worst team in the game and then sold off by the team that helped him redeem his career. He does not, from the outside, look like anyone's idea of a superstar. And yet his plate appearances in this second half of the season have an air of inevitability. Martinez is not just better than anyone thought, but better than he has any right to be. He's playing out of his mind, and has been pretty much all year. It could stop at any time, but Martinez is well worth watching until that moment comes.