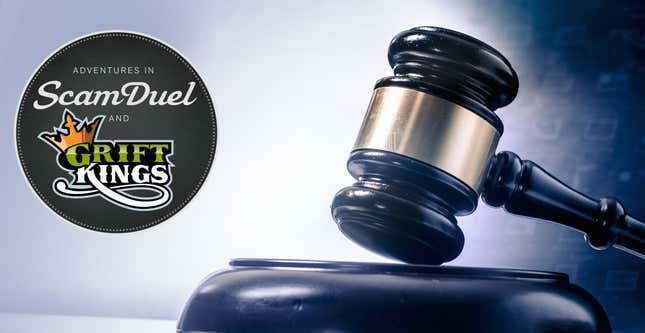 It was only a matter of time. With the public now aware that until yesterday DraftKings and FanDuels employees were allowed to bet on and win enormous sums of money on each other's sites, as well as a startling lack of transparency regarding which employees possess valuable insider information and how they are allowed to use it, it was only a matter of time until an aggrieved customer sued.
The first—but surely not last—aggrieved customer is Adam Johnson, a daily fantasy player who lives in Kentucky. In his lawsuit, filed today in Manhattan federal court, Johnson accuses DraftKings and FanDuel of negligence, fraud and misrepresentation, unjust enrichment, and violation of a variety of state consumer protection laws.
Johnson says he spent at least $100 playing at DraftKings, but would not have done so if he had known "defendants were working in concert to allow employees of DFS sites to play against them." His suit demands a jury trial and seeks class action status, defining the proposed class thusly:
All persons in the United States who deposited money into a DraftKings account before Oct. 6, 2015 and competed in any contest where other entries were made by employees from DraftKings, FanDuel or any other DFS site.
While DraftKings doesn't publicly release the size of its user base, previous reports put it at over one million, meaning a huge potential class.
Just because a lawsuit was filed, of course, doesn't mean that either DraftKings or FanDuel did anything legally wrong. But it's one more legal and public relations battle the companies have to wage, another potentially costly and damaging challenge to their business.
You can read the full suit below.
Photo via Shutterstock; graphic by Jim Cooke.
---
E-mail: kevin.draper@deadspin.com | PGP key + fingerprint | DM: @kevinmdraper