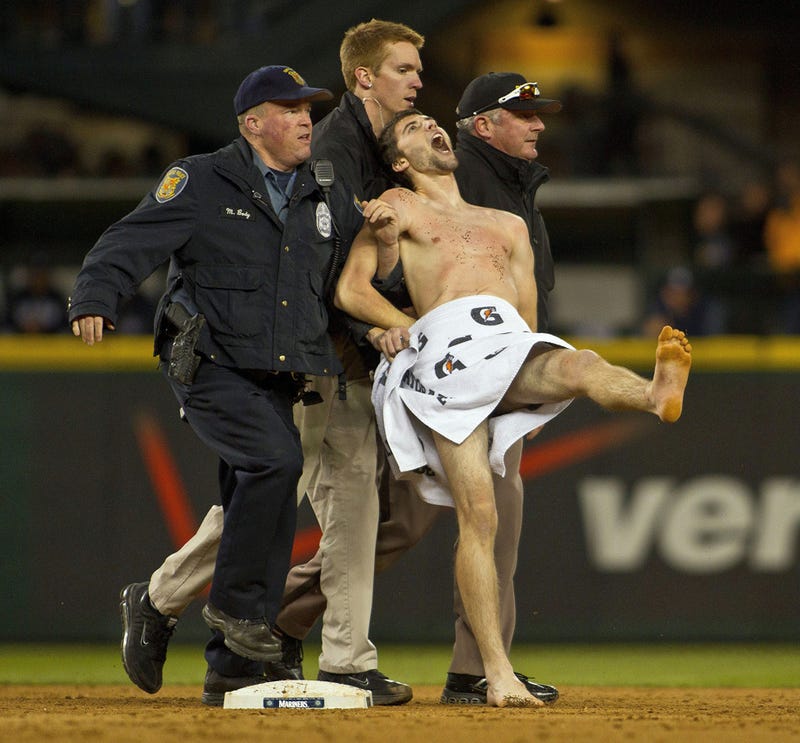 On a night when Chone Figgins lowered the price of Widmer beer at one Seattle bar to $1.97 (0-5 in the Mariners win over the Yankees), a streaker was the third of four fans to run on the field. He apparently took a shine to Derek Jeter in the eighth inning but the shortstop declined his advances. For now.
Here's are two comments from the Seattle Times's posting of a picture of said streaker:
gatorator Sumner, WA: After being at the game with my girlfriend I have to say she was unimpressed. I would have enjoyed it more if a taser or two would have been involve.

Whistle Berries Marysville, WA: Uhhh... I always though a pee-niss was supposed to be bigger than that...
Not focusing on dong size was Big Yankees Fan Michael LaPayower who put in best in two Tweets presented here for your perusal (the hyperlinks added):
There is no trophy or prize for running onto a field during a live baseball game. So stupid. There's so many other ways to get attention.

there is no prize or trophy running into the field during a live baseball game. Getting arrested and fined is an idiots merit badge
One out, nothing on | Streaker storms Safeco Field [Seattle Times/Kevin Fujii]