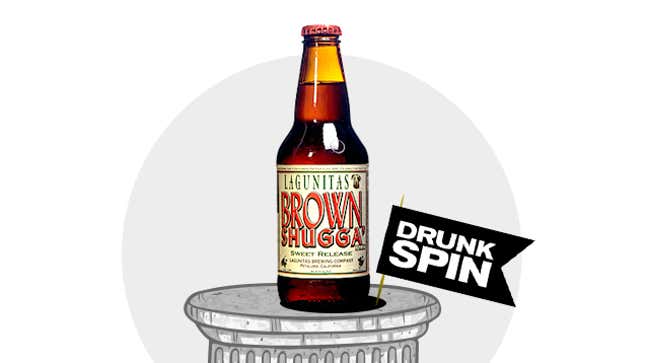 Now that I've got a gift guide out of the way and a best-of list mostly under control, it's time to shift focus to the final installment of the lazy blogger's year-end trilogy: the resolutions post. I haven't made much progress on that one yet, but I do know that "Stop caring about dumb names and marketing plans" will be high on the list of ways I hope to improve my beer-drinking and -writing in 2015.
Yes, I'm getting out of the business of ranting about stupid hop-pun names, sly marijuana references, meathead beer-bro posturing, and most of the other harmless idiocy that makes me wish the beer world had more women in decision-making capacities. (Women might be just as dumb as men on the whole, but in my experience, they're less given to dorky wordplay, and they're far less likely to devise frat-boy advertising campaigns based on things like "crushability" or mancave-enhancement.) I'll still fire up the indignation machine here and there to complain about particularly egregious sexism, but I'm no longer going to let myself care (or pretend to care!) if you name your Easter seasonal Hop to It and put a stoned bunny on the label.
This is partly because I'm tired of being pissed off about things that don't matter, and partly because I haven't been able to pin down any correlation between the stupidity of a beer's name and its quality. I've found that with wine, you can generally tell what you're going to get out of Tired Mommy's Stress-Relieving Pinot Noir, Sparkly Nail Polish Chardonnay, or Fluffy Puppy Malbec; if you drop $8 on one of these bottles of condescending mediocrity, you'll get what you deserve.
The beer situation's not so simple, which is why I'm able to praise Lagunitas Brown Shugga', despite its egregious punctuation, gimmicky 9.99-percent alcohol by volume, faux-repentant origin myth, and proud declarations of being "irresponsible" and "dangerously slammable." Forget about all that bullshit (well, not the high alcohol content; you're going to want to keep that in mind if there's any heavy machinery around) and instead focus on the fact that this atypical seasonal release is one of the best sugared-and/or-spiced beers on the market.
Beer Advocate classifies Brown Shugga' as an American Strong Ale, whereas Ratebeer calls it a barley wine. Lagunitas seems to consider it something in between—it was born accidentally in 1997 when they messed up what was supposed to be their Olde GranleyWine. They didn't get the beer they were intending, but they got one good enough to bottle under a different name, and now we've got Brown Shugga' every winter. Lucky us.
Brown Shugga' pours a deep amber color, with a big, long-lasting head. The aroma has a light cinnamon edge along with the brown sugar used in the brewing process, roasted caramel, orange, wood, and a muted version of the telltale pot-pine Lagunitas hops. The flavor is sweeter than expected, even for a beer named after sugar, but in a very good way. The molasses and toffee notes perfectly complement the hops, which boast nice grapefruit notes along with the typical bitter resin.
Brown Shugga' is a perfectly good name for this excellent, innovative beer.
---
This is Drunkspin Daily, the Concourse's adequate source for booze news, reviews, and bullshit. We'll be highlighting a beer a day in this space; please leave suggestions below.
Will Gordon loves life and tolerates dissent. He lives in Cambridge, Mass., and some of his closest friends have met Certified Cicerones. Find him on Twitter @WillGordonAgain. Image by Jim Cooke.
The Concourse is Deadspin's home for culture/food/whatever coverage. Follow us on Twitter.