Back in June, the Detroit Free Press reported that Michigan State president John Engler spiked a special issue of the alumni magazine that was supposed to focus exclusively on the Larry Nassar sex abuse scandal, the victims, and the fallout. Such an issue seemed like a natural thing for the magazine given the magnitude of the crisis, the legal ramifications of it and the media attention it has received. But Engler wanted the issue to focus on the "positive" steps that the university has taken since the scandal first became front page news. It's kind of like when part of your house is on fire, you want to be sure to tell people about the part that hasn't gone up in flames.

Per the Free Press:
"According to multiple sources within the administration who weren't authorized to speak to the media, out are the long-form essays exploring cultural issues on MSU's campus, how the scandal has tainted MSU and other related issues from faculty and alumni."
Now MSU's student paper, The State News, has obtained and released the original copy of the magazine before the Engler-mandated changes took place. The cover originally featured teal-colored text and a woman wearing teal lipstick. (Teal has become the color by which Nassar survivors and their supporters demonstrate their solidarity with one another and for all survivors of sexual violence. Over the last year, gymnastics fans have taken to wearing teal ribbons, NCAA gymnasts have worn teal ribbons in their hair at college gymnastics meets, and just this past weekend, Simone Biles wore a teal leotard at the 2018 national championships where she swept all five titles to show her support for the survivors.)
The other covers under consideration were also teal-based—one featured a teal ribbon and another a whole wall of them. All three had "Finding Our Way" written in teal letters.
G/O Media may get a commission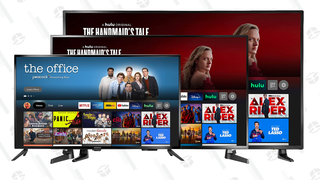 Up to 44% off
Prime Early Access - Insignia Fire TVs
The State News writes:
"The original magazine's essays chronicle the history of Nassar's abuse, gender inequality, the psychological effect of sexual abuse and a culture of silence. The narratives tell stories of the impact these topics have had on alumni and their ability to look back fondly on the school."

But the cover that went to print and was distributed to alumni was Spartan green. No teal, no ribbons, no woman staring straight into the camera. Instead, the cover was just a quote from Engler that read, "The university, which has faced the most difficult challenge in its history, has emerged and is going to be stronger, safer, and more competitive than ever before."
Surely a sentiment that survivors, their supporters, and alumni want to hear—that despite bungling a massive sex abuse scandal and treating survivors with shocking callousness, we're going to keep on winning.
In the original magazine, Stephanie McCann, an alumna and MSU faculty member, reckons with how to feel about a school you were once proud of. She wrote:
"How do we reconcile being a Spartan with the harm caused to so many people at the hands of another fellow Spartan? How do we put on our Green and not feel embarrassment, anger, or shame?...I am reclaiming what it means to be a Spartan. Being a Spartan means having deep empathy, it means speaking our truth, it means believing one another, and it means showing up when we feel most vulnerable. No one gets to push me out of MSU, including Nassar."