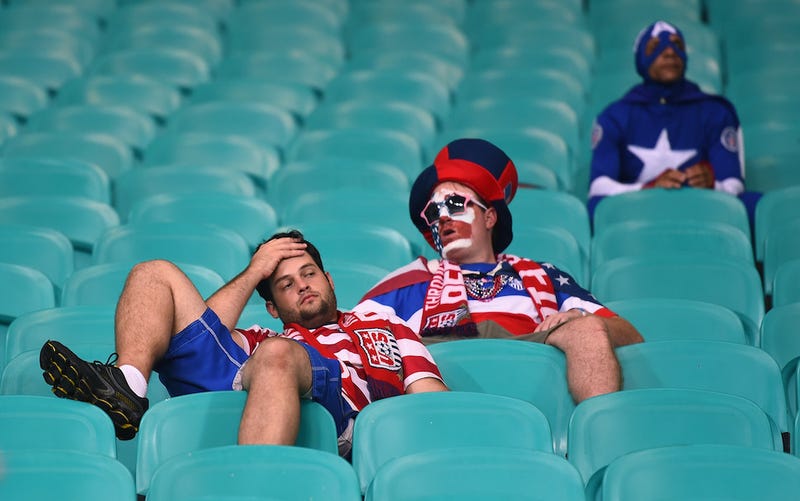 In the early minutes of the USA-Belgium match on Tuesday, a fan dressed in a Superman shirt strode onto the field, traipsing around until FIFA's security guards finally caught up to him. When they did, he cooperated and walked off, conceding defeat.
That's basically what the American fans in Brazil have been up to for the past two weeks. We've wandered around this spacious country, feeling invincible, but when the ride was over, when the dream collapsed, we woke up knowingly.
One of our chants borrows a rhythm from campsites across America:"Everywhere we go, people wanna know, who we are, so we tell them…" The truth is that everywhere we go, people know exactly who we are. Fans from the other 31 countries competing in the World Cup have remarked that the American supporters might be the proudest bastions in the stands, save for the Brazilian hosts.
Of the thousands of U.S. fans who flew to Brazil, many of them returned home after the final group stage match with Germany. Maybe some of them thought the United States didn't have a good chance of advancing; most of them simply had to return to their normal lives after a two-week vacation.
But those of us who stayed did so defiantly and loudly.
FIFA has a dumb rule that forbids fans from standing (in the stands) during World Cup games. It's enforced by ushers in every aisle. At the Round of 16 match on Tuesday, we decided: to hell with that rule.
Section 121 of Arena Fonte Nova in Salvador was punctured by dozens of star-spangled supporters who disregarded their seats and chanted for 120 minutes of play. They wore flags as bathrobes, pants, bandanas, ties, and tank tops. There was Wonder Woman, Uncle Sam, Lady Liberty, a bald eagle. Even Teddy Roosevelt joined our group to lead our rough-riding cheers.
We were reeling from hangovers from a raucous party the night before on the other side of town, yet rollicking to the lingering beat of a Brazilian drum line that led our march to the match through the cobblestone hills of the city's old quarter. The samba progression was an orgy of stars and stripes and even included a drum solo.
Somewhere inside the stadium was a couple from Houston who bought plane tickets but no game tickets, yet managed to score seats to every USA game. They extended their stay when the U.S. advanced and partied as if they were 15 years younger.
And there were the lifelong friends from New York who have been to seven World Cups together, one of whom has Landon Donovan's famous 2010 goal saved on his DVR so he can rewatch it when he has a bad day.
There was the family of five from California going to their second World Cup, and first for their 12-year-old daughter. They just arrived and were about to see their first USA game of the tournament.
And beaming in Section 121 were Joe, Carlos, and Elvin, three Americans who bought a decade-old RV and drove from Albany to Brazil in 45 days. Through 12,000 miles they had bribed police in Panama, taken ice-cold showers with other-worldly insects in Mexico, and been robbed at knifepoint in Brazil. In Salvador, the night before the USA-Belgium match, Joe was talking to his girlfriend on Skype outside their hotel when a man swiped his laptop. He didn't tell the others because he didn't want to ruin the game.
They had tickets to see Colombia and Ivory Coast play in Brasilia, and Costa Rica and Greece play in Recife, but they missed both matches because they couldn't make it in time. Driving through the mountains of South America was hellish, and there were times when they would take more than an hour to travel 20 miles. In fact, the first game they did see was the most important one for Team USA: the Portugal-Ghana match, which decided the Americans' fate. After that match, they met a guy who sold them tickets to the Round of 16 playoff in Salvador, and that's how they wound up in Section 121, even though their tickets were for seats on the upper level and the far side of the stadium.
Standing three people deep in the row, Carlos called his mom on Skype from the stands. The chants began: before kickoff: "Eeeeeestados Unidos…," "Oh when the yanks…," and the oft-repeated "I Believe" hymn.
"Stand up! Stand up! Stand up for the USA!" cried Joe, a red-bearded bohemian who quit his job as a customer-service rep for an insurance company so he could drive to the World Cup.
It smelled like beer and bodies, the way soccer games around the world should and often do when FIFA isn't meddling, and the pockets of American fans in other places around the stadium provided surround sound as the U.S. Men's National Team struggled to score, yet held off Belgium.
"Fucking nervous, man," Joe muttered at halftime.
But Section 121 didn't buckle.
"Can't watch the World Cup sitting down," a woman said behind us. "I barely have any voice left."
Before the second half started, Joe called us all in for a huddle. "What should we say?" he asked. We defaulted to "1, 2, 3, USA!" and lifted our hands just as the whistle blew for the second 45 minutes.
"Come on guys, they need our support! USA! USA!" Carlos shouted as the chant rippled.
One story of the match was Tim Howard's stubborn goalkeeping, and with each save Joe's reactions grew more intense — grabbing Elvin's shoulder tightly, screaming "Gonna give me a fucking heart attack!", hugging me, and finally at the end of regulation, simply screaming "AAAAAHHHHHHHHHHH!"
"Hey, anybody else want a cigarette right now?" he asked. And someone did.
The 30-minute overtime of the match was what everyone in Section 121 will remember the strongest. "I believe! Let's go!" a woman cried after Belgium scored early in the period.
The Belgians then put another one in the net, and it felt like a final blow. The patriotic chants continued, but they felt feeble, and petered out. The first 15 minutes had ended, and with only 15 minutes left to score two goals to stay alive, the American fans were weary—from standing, from sweating, from yelling, from not fucking scoring.
Suddenly without speaking, just as the final 15 minutes began, everyone started to sing. And then the United States scored.
Who knows if scientists will prove the causality of the day's events. But the United States scored, and we went nuts. Maybe it was the singing, but more likely, it was because Jürgen Klinsmann introduced the 18-year-old Julian Green, at halftime of overtime, who then scored on his first touch.
The stadium was louder than it had been at any point during the game, or any USMNT game before it. "USA! USA! USA!" reverberated from end to end so strongly that from inside the stadium, it felt Americans back in the States would hear, 12,000 miles away.
With just a few minutes left in the game, we knew the U.S. would score again. They had to. We were singing nonstop, singing louder than ever, singing songs about bad waffles and redwood forests and believing that we will win. We really did believe they would win. We really did believe that elegantly choreographed free kick in the final minutes would go in the net, and that the United States would equalize Belgium 2-2, and that we would win in penalties, because Tim Howard would save the day.
When the final whistle shrieked, we woke up. We'd been dreaming. It had been a really good dream, the kind of dream you never want to wake up from. But then we you remember what's real. You remember that Klinsmann himself said the U.S. wouldn't win the World Cup. You remember that it's not really Teddy Roosevelt standing with us, but an advertiser from Chicago wearing a cowboy hat and gloves.
Joe waved his American flag as the "USA!" chant returned. "Let's get our team over here!" Carlos commanded.
Voices hoarse and bodies aching, we chanted ("And that's the way we like it, we like it, we like it…") and waited for Belgium to celebrate, until the U.S. team approached us, clapping sporadically.
It was over.
"We made it this far. No one expected us to," one guy said. "Now we go get fucked up."
"See you in four years, bro," said a shirtless man who painted his face to match the flag he was wearing as a cape.
"We are the U.S.," declared a smelly dude giving high-fives indiscriminately.
"We did our country proud," said a man in overalls and no shirt.
After a fair amount of beer, the sky as dark as our outlook, Joe, Carlos and Elvin walked back to their RV that they parked beneath and underpass a mile from the stadium.
Suddenly, Joe stopped.
"God," he said. "I can't believe we fucking drove here."
---
Matt Negrin is writing about soccer fans around the world and at the World Cup. His website is www.awayandhome.com.
Screamer is Deadspin's soccer site. We're @ScreamerDS on Twitter. We'll be partnering with our friends at Howler Magazine throughout the World Cup. Follow them on Twitter,@whatahowler.
Photo Credit: Getty