We've talked about the Penguins' depth, constructed through signings and trades and able to carry the load on nights the top lines don't have it. We've talked about one of those scoring lines, even before Phil Kessel emerged as a potential Conn Smythe candidate. We've done plenty of talking about Sidney Crosby, who apparently needs to remind everyone each year—and does—that he's the best player in the world.
But we haven't said much about Evgeni Malkin, because we haven't had to—Pittsburgh's other superstar center had been quiet, until breaking out with a goal and an assist in the Penguins' 3-1 Game 4 win last night. I'm starting to think these Pens just have too damn many good players to shut down them all.
Coach Mike Sullivan talked about Malkin after Sunday's skate, and it was partly to praise his play that hasn't shown up on the scoresheet, partly to dare him to be better. Sullivan said Malkin is "buying into our team concept here. He's been a big part of this playoff success. But certainly I know that there's another level that he has to help us win."
Malkin hadn't scored in these finals, though he had shown bursts of something, especially on the occasions he found himself on the ice with Crosby. But last night, it was Malkin and Kessel that did the damage.
G/O Media may get a commission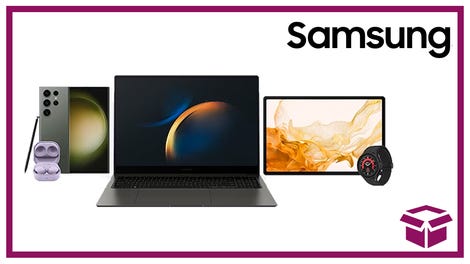 24 hour deals
Discover Samsung - Daily Deal
At the very beginning of this clip, Malkin shrugs off an attempt by Roman Polak to dislodge him from the puck, and holds it until Kessel gets a head of steam heading down the ice. I'm not sure which was uglier—the huge rebound Martin Jones gave up that went to Ian Cole for the score, or Polak's play this entire series—but give credit to the Penguins for taking advantage of what they were given.
It was Malkin and Kessel again in the second, this time on the power play, and this was a hell of a pass from Kessel to find Malkin posted up at the side of the net.
Neither of these goals were examples of otherworldly skill on Malkin's part, but they were proof that if you keep doing good things, the scoring will eventually come, and they were functions of the Penguins' overwhelming depth: In Game 3 and again last night, the Sharks sold out to stop Pittsburgh's top lines, and committed the bottom D-pairing of Polak and Brenden Dillon to Malkin's line. They got roasted on the first goal, and San Jose had so many skill skaters to defend on the second that Malkin was able to get prime positioning beside Jones.
The Penguins now head back east, with the chance to be the first Pittsburgh team to win a championship at home since the 1960 Pirates. And while the Sharks are wholly capable of exploding for three games and I am fully willing to eat shit if I'm wrong, this is starting to feel inevitable. The Sharks haven't led for one second of game time this series (in fact, thanks to overtime losses, the Penguins haven't trailed for a puck drop since Game 4 of the Lightning series), and San Jose's defense and goaltending just doesn't seem capable of dealing with Pittsburgh's hydra-headed offense. Imagine that, facing a roster so complete and capable that the least-worst option is letting Evgeni Malkin face your softest defensemen. That is not a formula for a comeback.