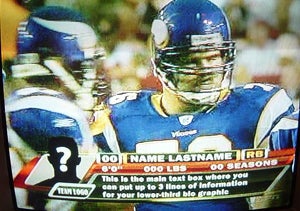 While we acknowledge that the "Monday Night Football" crew might still have some bugs to iron out, as evidenced by this inventive description of new Vikings offensive lineman Steve Hutchinson, on the whole, it was a pretty smooth night of football, considering it went for almost seven hours.
Tony Kornheiser sounded like he'd been broadcasting for a heckuva lot longer than Joe Theismann — listening to the two of the them talk, we keep hearing Mortal Kombat's "FINISH HIM!!!!" in our brains; the question is not whether Kornheiser could destroy Theismann on air, the question is whether he actually wants to — and in the late game, Dick Vermeil was a surprising joy, smart, funny and kinda, we dunno, warm. Seriously, did that broadcast team even have time to practice? And they were still the best we've heard so far.
As for the games, well, if we were Redskins fans, we'd be deeply concerned, and it's not just the Cruise thing. But that's better than being a fan of the Raiders, whom, after last night's game, we're pretty comfortable with calling them the Illini of the NFL. Perhaps they should device a new way to punt.
Vermeil On Monday Night Football [Off Wing Opinion]