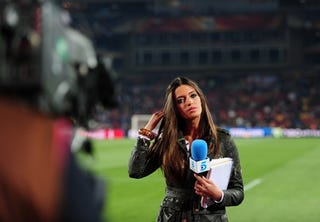 This post, written by Josh Burt, is republished with permission from The Spoiler. Go there often if you like soccer stuff.
Cast your mind back through the sherry-glazed fug of the last couple of weeks, and you might remember that The Spoiler lifted the Real Madrid curtain to reveal that absolutely everyone seems to think that Cristiano Ronaldo is a bit of a tool. You can refresh your memory here if you so wish.
There has been an update over Christmas.
After rocking the boat by suggesting that C-Ronny might be a little bit selfish at times during a chat show interview, it turns out that Sara Carbonero — the hot sports reporter, who just so happens to also act as Iker Casillas's regular port in a storm — has now been BANNED from talking about him on her TV programme by Real honcho Florentino Perez.
How will this affect the fragile Cristiano Ronaldo ego? Could he really bear not to be talked about? Let us know your thoughts with a comment.
Here's a short video of Sara saying something relevant in French or Mexican or something…