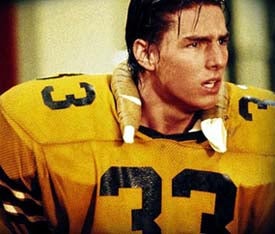 This isn't easy to say so we're just going to say it: According to a new survey, one third of former high school football players have had sexual relations with other men. That's according to a new study to be published in the Journal of Sex Roles, which I totally just read by accident, and that's the truth.
Sociologist Dr. Eric Anderson, who is credited with being the first openly gay high school coach during his tenure at Huntington Breach High in the early nineties, conducted the study that suggests that "society's increasing open-mindedness about homosexuality and decreasing stigma concerning sexual activity with other men had allowed sportsmen to speak more openly about these sexual activities." It found that over one third of the men interviewed admitted to having contact with other men whether with women present or alone.
This raises many disturbing questions for all the former high school football players out there. Is it now a little uncomfortable to look back on all those pats on the butt, locker room towel antics and gay sex in the showers without thinking that they had some hidden, Freudian meaning?
Over One-Third Of Former American Football Players Had Sexual Relations With Men, Study Claims [Science Daily]