Well, here's a sad story with no redeeming value to it! In Louisville, Ohio last Friday, the local high school football team came from behind to score a go-ahead touchdown with just over a minute remaining. This is the good part.
With a 26-24 lead against Cleveland Walsh Jesuit, the Louisville players—especially Alex Schooley, who caught what appeared to be a game-winner—celebrated in the end zone with certain joy. They were paying tribute to 16-year-old Dominic Wilgus, a friend who died in a car accident on Aug. 22. A few of them pointed to the sky, the crowd went nuts, and then the referee tossed a flag and called it "excessive celebration":
The two players were penalized with a foul for excessive celebration, WJW reported. Keri Hollifield, whose son also plays for Louisville, said she thought the players made the gesture for their friend who died because they thought he "was there watching them."

The assistant commissioner for the Ohio High School Athletic Association said the penalty was appropriate under the rules, WJW reported. Henry Zaborniak said that any prolonged gesture by a player "that draws attention to himself is a foul."

Without knowing the context of the gesture, it could be considered offensive to the other team even though it was not intended that way, Zaborniak said.
It's true that, without context, the referee's call holds up—especially in high school football. But within the context of the game, it ultimately led to some more heartbreak: Walsh Jesuit had a 15-yard advantage on the ensuing kickoff, and were able to bring the ball back to Louisville's 29-yard-line. Soon after, they'd scored the game-winning field goal.
"[It was just] a simple gesture to heaven," a Louisville player's grandmother said after the game. That's how Disney would have scripted it, anyway.
G/O Media may get a commission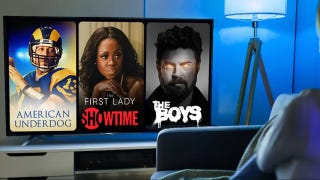 UNDER $1
99¢ Prime Video Channels
After Losing Friend, Player Penalized for Show of Emotion [Fox 8 Cleveland]
Players penalized for TD tribute to recently departed friend [Prep Rally]