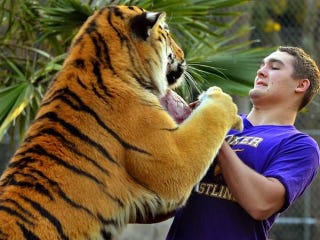 Kaz Dymek is so totally stoked by his chance to become a Sarasota, Fla. high school's first state wrestling champion that he's sparring with "Old Buck" who, per the Herald-Tribune, "weighs 400 pounds, eats 30 pounds of meat a day, growls with a ferocity that can peel paint, and is a Bengal tiger."
The destined-for-career-in-carnivals feel disappears, however, when you learn Dymek's family owns the Big Cat Habitat and Gulf Coast Sanctuary, and that the 29-0, 285-pound grappler "has been around cats ever since his aunt turned to him inside the family trailer one day and said, 'Here, I'm leaving for a while,' and handed him a tiger cub to babysit."
"It's like wrestling with your brother. Only this guy's got bigger teeth."...

When he wrestles with them it is playful, but he is always on high alert.
Booker High wrestler trains with tigers [Herald-Tribune] (H/T tipster Paul P.)
Booker's Drymek gets gold, now 29-0 [HTPreps]