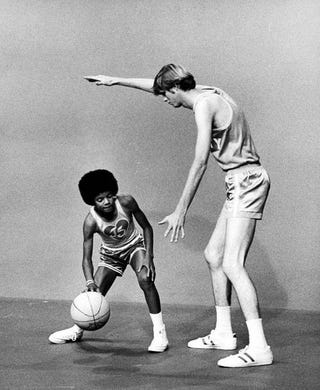 Because no one reads the newspaper, and SportsCenter's anchors are too perky for this early in the morning, Deadspin combs the best of the broadsheets and internets to bring you everything you need to know to start your day.
• The Rays kept pace with the Yankees and may have killed the Red Sox's playoff hopes, a minor victory against smug insufferability.
• Manny Ramirez—ejected during his last at-bat with the Dodgers—will join the White Sox today.
• If Ndamukong "Spellcheck" Suh assaults someone during the game, but it's Jake Delhomme, do we get up in arms or herald the comeback of "old-school," hard-nosed play?
• TEBOW!
• Have you been wondering what Curtis Enis is up to? Neither have I, but he's coaching a high school team in Ohio.
• Japan's ferocious defense stopped the United States from winning their sixth straight Little League World Series. The U.S. teams' grandfathers grumbled snidely from the stands.
• Cricket's got itself one of those gambling scandals that would really grind Bob Ryan's gears if it was a real sport.
• Step right up. Get your MLB-licensed Charlie Brown Pez dispensers right here, folks.
• Here's a nice tribute to Matt Dobek, the Pistons' public relations director who took his own life last weekend.
Photo via Waxin' and Milkin'
*****
Good morning, let's get cracking. We're going to try to not break AJ's crystal egg while we crank the music extra loud.