(Update: this is from last year, our bad.) Lost in the madness of March was this little gem from the AHL this week. A fight between the Rockford Ice Hogs and Chicago Wolves, in the final seconds of a 2-1 Hogs win, broke out basically in the Rockford bench and spread to surrounding area.
It all started when Guillaume Desbiens of the Wolves rode Rockford's Ben Smith into the boards in front of the Ice Hogs bench and the door swung open. Both men went sprawling into the bench and shit just got wild. Punches were flying from everywhere, guys from the Chicago bench were pounding on the glass partition like fans normally do—one of them was actually punching around the partition—and even the Chicago goalie made an appearance.
The least effective of all the fighters, though, had be the guy lightly jabbing players with the stick from the bench.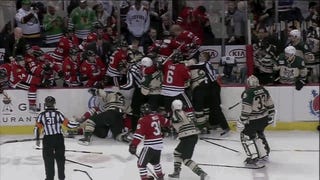 In all, 27 penalties were assessed, none of which were fighting majors.
WATCH: Brawl breaks out between AHL Rockford Ice Hogs, Chicago Wolves [SI]