Because no one reads the newspaper, and SportsCenter's anchors are too perky for this early in the morning, Deadspin combs the best of the broadsheets and internets to bring you everything you need to know to start your day.
• The Chicago Blackhawks beat the Los Angeles Kings 2-1 yesterday [Chicago Tribune]. John Scott beat Kings enforcer Kevin Westgarth into bloody submission. Slo-mo battery enthusiasts should check out 1:19 of this video.

• Miami Hurricanes coach Randy Shannon will take his talents anywhere but South Beach. Fine, Coral Gables. But it all looks the same to me from 32-degree Philadelphia. [Miami Herald]
• Mark Cuban on his attempted text-seduction of LeBron: "Before he made his decision, what I told [James] ... was no team had ever blown up their team to ground zero — well, I shouldn't use those words — blown their team up of all of their core, and then added a couple of free agents and won a championship." [ESPN]
• The Miami Heat fell to 9-8 with a loss to the Mavs last night. Afterwards, they held a closed-door meeting at which LeBron presumably said, "I should've listened to Cuban." [FoxSportsSouthwest]
G/O Media may get a commission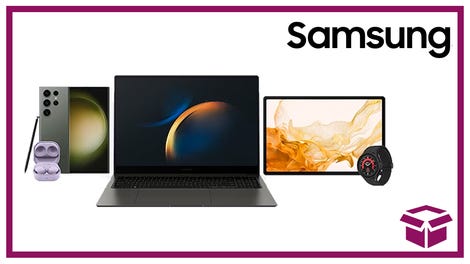 24 hour deals
Discover Samsung - Daily Deal
• Broncos video guy/cheater Steve Scarnecchia fell on the sword, so the Broncos and Josh McDaniels each received a Harrison-level fine. [Denver Post]
• California defensive line coach Tosh Lupoi was suspended after admitting he instructed a player to fake an injury against Oregon. [News Tribune]
• Making the email rounds is this "offer" to sell Saints season tickets (H/T Tracy S). It goes with that picture of the creepy guy staring down the camera
I have 2 season tickets for sale. My wife doesn't want to attend any more of their games.... she doesn't like the woman who sits in the seat next to us.
I've attached a photo of the view from those seats.
Tickets will be sold to the highest bidder.
Current Bid: $76,500 each.
Um, why $76.5K?
• In unfunny New Orleans news, Saints defensive end Will Smith got arrested for dragging his wife by her hair in the street outside a nightclub. [Fox8]
• Colt Brennan was released from the hospital; still has a "heavy heart" because the other driver in the crash that hospitalized him in the first place has yet to go home. [WUSA9]
• Dimitar Berbatov scored five of Man U's seven goals against Blackburn yesterday. There's video at SimplyReds. Afterwards, the Bulgarian said, "I can't believe I scored five in a game, but it happened. ... Today I did it in the Premier League. To stand next to people like Cole and Shearer is a great honour." [BBC Sport]
• In other soccer news, a junior-high match in Pennsylvania last month featured a goalkeeper getting chased around the pitch by a wild turkey. (H/T Bob's Blitz). Beautiful game, indeed.

• The Minnesota Wild beat the Nashville Predators 5-2 on Friday night. Whatever. Same night, the Minnesota Wild hosted the "largest gathering of people with mustaches" in the name of prostate-cancer awareness. [Last Angry Fan]
• Here's a funky story about NCAA violations involving Duquesne and sneakers that may or may not have been sent to soldiers. [Pittsburgh Post-Gazette with a H/T to RushTheCourt.net]
• Seems as if Starbury and China have gone their separate ways. Poor China. [NiuBBall.com]
• Reports The Sun, "Formula One supremo Bernie Ecclestone unveils his injuries yesterday after his savage mugging. The 80-year-old - ambushed with new girlfriend Fabiana Flosi, 31 - said as he lifted his dark glasses: 'I'm OK.'"
• And, finally, from the "Hickey's Biased" coverage files … Cheer, cheer for Old (Bowl-Bound) Notre Dame [Chicago Sun Times]. For beating N. Iowa in the Football Championship Subdivision playoffs last night [Sioux City Journal], Lehigh earned the right to become the Fighting Blue Hens' first victims [News Journal].
****
Bienvenidos, damas y caballeros.