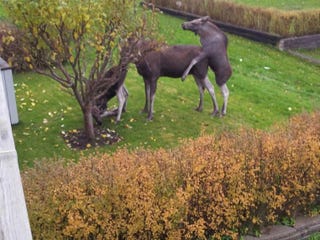 Aggressive Women's Magazine Photographer: Elks! Today we're doing "Swede Shocked By Elk 'Threesome'." So let's get started while we still have good light. Okay, you there, with the knobby knees, get inside that tall one. Higher. HIGHER. ATTACK THOSE HAUNCHES. Great. Now, you in the middle, act a little less enthused. STOP LOOKING AT THE CAMERA! Now, you there in the back, get in front of him. Quickly, now. Hurry on up! Okay, now, Tall Elk, just get your nose way in there. Deeper, please. Come on, you're a professional'! Gimme more. MORE. PRETEND THE LAST PIECE OF CRESTED WHEATGRASS ON EARTH IS BURIED IN THERE. Great! Now, you on the ground, collapse your legs a bit. Little more bend in the knees — YOU IN THE BACK DON'T STOP THRUSTING. Okay, little more bend in the knees, sweetheart. Now hide yourself behind the little bush a bit. Yeah, you're bashful. A little bashful elk getting startled by a mysterious hiney tickle. OKAY NOW EVERYONE HOLD THAT POSE. Perfect.
PHOTO BY PETER LUNDGREN, DISCOVERER OF ELK THREESOME

*****
Thanks for your continued support of Deadspin. Baseball time.