When we learned that the USMNT would be playing Ecuador—a team whose relatively middling reputation on the international scene belies their legitimate talent—for the right to compete in the Copa América semis, we were hopeful about the U.S.'s chances to progress but also a little worried about the specter of a blown opportunity, and confused by those two dueling emotions. Well, we were right to be hopeful and to be worried, but by the end, our boys pulled it out. The U.S. will play in the Copa América semifinal. This is crazy.
I, like most sane sports fans, only sort of half-watched the U.S.-Ecuador match while devoting most of my attention on LeBron and company's noble attempt to do what me and my coworkers try to accomplish every day, which is make Kevin Draper cry. What I was able to gather, though, was that the U.S. once again played pretty damn well for most of the game, running out to a well-deserved 2-0 lead a little over an hour into things, before hanging on for dear life for the final 20 minutes or so as Jefferson Montero and Enner Valencia galloped through the large spaces down the flanks in search of a couple goals to tie things up. Thankfully, they were only able to get one, and so the Americans prevailed.
Clint Dempsey was a stud, Bobby Wood looked like the good version of what everyone thought Jozy Altidore could be, and John Brooks continued his tournament-long demonstration that he is in fact the truth and, along with Christian Pulisic, the most promising young talent in the U.S. setup.
Klinsmann, too, impressed with his tactics—I know, right?!?—starting natural center back Matt Besler at left back in place of suspended right back DeAndre Yedlin, and switching Fabian Johnson over from the left to the right full back position. What might have proven a dangerous gambit, playing Besler in an unfamiliar position and asking him to provide the width going forward that the team had been relying on previously, the manager actually came up with a nifty tweak that made everything work.
Klinsmann had the defense play almost like a back three when the U.S. had possession, with Johnson pushing up the wing and the three other defenders spreading out to cover the team's back end without anyone having to overextend themselves. That bit of sophistication, coupled with the switch from 4-3-3 to 4-4-2 earlier in the competition, speaks well of Klinsmann and his growth in the game-managing component of his job, where he's normally so unimpressive.
The weirdest part of the game was the dust-up early on in the second half which saw both Antonio Valencia and Jermaine Jones sent off—Valencia for a well-earned second yellow card and Jones for a strange push/punch thing in the scrum that resulted from Valencia's bad tackle. The red cards, and the Americans' second goal about 15 minutes later, changed the game in that it afforded Ecuador more space to run into while the U.S. remained content sitting deep and trying—often unsuccessfully—to withstand the onslaught. But withstand they did, and now they're into the semis.
G/O Media may get a commission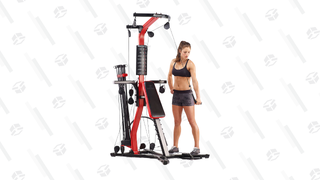 31% Off
Bowflex PR3000 Home Gym
Look, the U.S. (probably) aren't gonna win the Copa América. Not only will we almost certainly be facing Argentina, the overwhelming favorites to win the whole thing, who are so great that they left dudes home that would've been far and away the best American players of all time had they been born over here, but we'll also have to do so without Jones (the red card), Wood (picked up a second yellow), and Alejandro Bedoya (same as Wood), who've all been key contributors facilitating this Copa run. Those absences, plus the limited players in line to replace them, means the U.S. will look a lot different than they have so far this tournament, in personnel and in playing style.
But few would've predicted that we'd even get this far, and we'll have the crowd behind us, and maybe even Lady Luck backing us, to boot. (Oh, and two more days of rest than our opponent.) This Copa América has already been a wild success. There's no reason to fear what happens next, and for that reason there's no harm in damning the torpedoes and believing that the good times might just keep on rolling.