Tell Me When It's Over is an interview series in which we ask former athletes about the moment they knew their playing days were over. Today: guard John Vallely, who won national titles with and without Lew Alcindor at UCLA.
John Vallely attended two years of junior college before coming to play for coaching legend John Wooden at UCLA. In Vallely's first season, the Bruins went 29-1 and won a national championship in what would be Lew Alcindor's last year in Westwood. The following year, as captain, Vallely led the Bruins to a 28-2 mark and another national championship, their fourth consecutive and sixth in seven years. Vallely was named to the NCAA All-Tournament team both seasons.
In the 1970 NBA draft, the Atlanta Hawks picked him 14th overall, their second pick of the draft. On road trips he would room with the Hawks' first pick of 1970, Pistol Pete Maravich of LSU.
Vallely was traded to the Houston Rockets in November of 1971 and finished his career having played in exactly 100 games in the NBA. After a year away from basketball he played one final season as a player/coach in Belgium.
Vallely's son Eric played volleyball at UCLA. His daughter Erin died of cancer in 1991. Vallely himself contracted non-Hodgkins lymphoma in 2003. He now spends significant time raising money for children's cancer research through Dribble for the Cure.
G/O Media may get a commission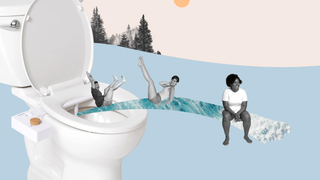 17% off
Tushy 3.0 Warm Water Spa Bidet Attachment
Like Willie Wise, he's read the Bible at least twice.
* * *
I entered high school at five-foot-five and 115 pounds, but I managed to make the varsity team because I could shoot a basketball. Somehow it fascinated me. So that all was great in high school and then junior college, a couple of years there, and then off to UCLA where I actually got an education about how sports could help a person for the rest of their life, if they embrace some concepts that this great teacher at UCLA was willing to offer up for his athletes to consider.
John Wooden never demanded that they consider it, but he taught us a set of life lessons that came out of something he called the Pyramid of Success. And if you were to take those characteristics and apply them in your business life or your family life or, in my case, in the fights against disease as well, having lost a child to cancer and also fought the cancer world myself for three years, it was great to have a philosophy that could help you keep your balance through all those developments.
The intent is that the athlete has to take a good look at his life, what it is he's trying to do with it once he leaves the court. And if he can put to work in his life concepts of sacrificing personal interests for the glory of the unit in a marriage, or the success of a business, or his effort in philanthropy, if he has some peace of mind about that effort, as Coach Wooden would say, you wouldn't have to worry about the results because you'd know you'd done your very best.
And the thing that was unique that he taught, too, was that there's not one of us that's like another. So being busy comparing yourself to somebody else who's seven-two who gets more rebounds than you do is really ridiculous. What is it that you can do? What is it that you can control in your life, once you get out of the sport, that will cause you to be successful?
* * *
People are really talented in the NBA. I was good enough to get to the NBA and play for a very brief time with players that were much better than me, more talented than me. I was a good jumper as an athlete, until the knees started to fail when I got to college and started taking cortisone shots in my knees. The shots managed to keep me going for a little while, but that's just living a lie.
By the time I got to the Atlanta Hawks I was rooming with a guy named Pistol Pete Maravich, and the guards on the team were Walt Hazard, a sixth-year pro at the time who ended up having a long career, and Lou Hudson, a big-time star in the NBA, averaging over 25 points a game at the time. And so suddenly you find yourself in a place where maybe there's somebody better than you. And I thought about Coach Wooden's statement: You never compare yourself to another person.
Some of the athletes that experience great success and maybe don't adjust, and many of these UCLA athletes, even, did not deem the Pyramid of Success useful because they were so dominant in their chosen fields in the early years. And when you're that dominant, what do you need of anybody? But I remember starting to think about the concepts in the Pyramid of Success as a senior, the year after we lost Kareem to the pros. We no longer had the big man. We were called "The Team Without." And there I was, captain of the team, starter from the year before, and I really started to take seriously what Coach was teaching.
* * *
I had a small businessman as a father. He had a little boat rental in Newport Beach and he took in the money and he paid it out. And I saw him do it every night at his desk, keep his journals, and it was responsible behavior that was being shown to me. And then I got into the NBA not knowing how long it would be that I would be there, and so I saved every dollar I made when I was in there. Drove a Volkswagen. Had one car, not two cars, even though I was married. And took a different approach.
The day you sign your first contract you've got a choice. You can go spend all the money on things that you may not get a return on, or you can take a small portion and live on that. Which is what my wife Karen and I did. And we put all the rest into investments.
And I probably was not like a lot of the other people because I didn't see the longevity of me being in that sport. People all around me were these superstars, and so they don't necessarily have to start thinking in terms of what are they going to do next. I started thinking of it very soon. I thought, Wow, this is an opportunity that very few kids 21 to 25 years old get. And so I thought, Okay, well, if a guy could do as well as he could in the sport and then come out with something and be able to start his own business or invest in a business or something like that, it would be not a bad way to go.
You could be traded, somebody could be injured, somebody could have some sort of an issue come up that would cause them to not be in the position to play and you might get your opportunity. I mean, I had a night when they let me play in Atlanta and I scored 24, 25 points or something like that. So everybody can do that on a given night or they probably wouldn't be at that level.
But if you're playing with people that are actually more talented, like the three men that I mentioned, or the three that I played with in Houston, Stu Lantz, Calvin Murphy, and Mike Newlin. All of them had 12-year careers. Very talented guys. So things don't always work out the way you think they might. And a person can say, Oh, well, I just wasn't good enough, which is not what I'm saying. Sometimes it helps to be in the right place at the right time. If I'd been with a different organization where there was more opportunity, maybe things would have worked out differently. But I can't control that. The only thing I can control is my effort from where I was.
Coach Wooden would say some coaches didn't know how to use me the way I could have been used. I won't use that as an excuse. I'll just say that the other players at the time were better. Had I been in a situation where I might have been used in a different way, it might have worked out better. But there were very talented people there that played ahead of me on those two professional teams.
No athlete wants to see his career come to an end. And it is always a transition that everybody has to go through. I mean, I left the NBA and then a year later got a call to be a player/coach in Brussels, Belgium. Went over there and had a very good year. And played and coached on the team. And so you never know when things are going to change. But you know: did you star in the NBA? No, that didn't happen to me.
* * *
We had a lot of discipline problems on the Atlanta Hawks. There was a lot of difficulty between the players that were there and that had coexisted for some time, and Pistol Pete. And so I walked in one day and I said to the coach, Coach, I think there's some problems here that really need to be kind of looked at, or ironed out in order to make us better. Just thinking that I kind of had that role as team player at UCLA, and sort of tried to work together and so forth. And before I could finish my sentence or statement I was told by the coach, You have two rights on this team. One, to play as hard as you can every time I ask you to. And the other is to pick up your paycheck on the first and the 15th. So as a rookie, that's quite an education when you get that sort of a statement. It put things in perspective pretty quick.
Everybody, when they get traded, might feel jilted. I mean, Lamar Odom's going through that right now. Why would they get rid of him? He was an integral part of the Los Angeles Lakers. We're human beings. You're not going to escape the emotions. One might cause some thought of rejection and another one acceptance. The question is, What happens next?
I came home actually and stayed in shape. I was playing a volleyball match. I played at a really high level, what they call today the professional level. And I had a little accident on the beach where I hyper-extended the knee, and ended up having a knee operation. This was in '74.
And while I was sitting around recovering, I decided to get a real-estate license. So I learned the language of the real-estate business. I was invested through the attorney that represented me. I was busy asking all the questions I could from that lawyer to learn about what we were doing with some of the resources I had gained from playing basketball.
I knew that someday I'd be back in my hometown wanting to do something, so rather than sitting there doing nothing, in a cast recovering from the knee operation, it was better to do something. And so I educated myself in another area. I didn't know that I would get a call to go and play basketball again. But I recovered from the operation and felt well enough to go over there and play and so did that, and then I came back and started into private business.
* * *
The guy who was running my Belgian team came to us and said, Hey, we're going to be leaving at midnight. Please be ready. The bus will be out in front. Get on it. Be on time, because we're leaving. The league was busy folding, even though we had 10 American players on every team. It was certainly a better brand of basketball than they were playing in Europe at the time. Europe had not progressed to the level that is now by then. And so the financiers, the business part of the business, said, This league is not going to last. How I knew that would be my last game a few nights before that is beyond me. There's no way I could have known, but there we were, packing up and out of town. We collected our paychecks from the league and that was it.
I decided that I really didn't want to work for others again. I would rather have some control over the environment in which I worked. When I was at UCLA, I saw a pretty good work environment, and then when I was in pro basketball I didn't see as good a work environment for many different reasons. Because there's suddenly a great deal of money involved with different sorts of personalities. And the ability of a franchise to manage somebody the caliber of a Pistol Pete or an Elvin Hayes, who were the stars of the day. Some of these characters may or may not be as manageable as others. I saw the environment, the culture, was not as good as it could be. And I thought if I was going to be involved in my own business that I could maybe create a culture that would allow people to do well.
* * *
I just had my knee replaced about a year ago. I have had some physical issues starting in high school when I had my first cortisone shot. I was able to jump, probably did too much of it on the beach as far as volleyball's concerned, which may have not helped my basketball career, although it kept me in great shape, you know, to progress to the college level. And that high level was a great experience and satisfying. To have gotten to the NBA and to experience what it's like to be there in that environment was a great experience as well.
But the athletic career, for everybody, comes to an end sooner or later. The accolades that may come to a pro athlete for having had a 10-year career may be greater than what I experienced. On the other hand, I had the education that allowed me to go into private business and to do well and to have a decent life. Some of the things didn't work out as well as I would like to have. I wish we could have had a cure for cancer for my child, but we lost her when she was 12. And then I went through the battle myself and have had my hand in raising a substantial amount of money for children's cancer research. And I'm now doing this great Dribble for the Cure project at St. John's, UCLA, and the University of Washington this year. I don't know what the future brings, but it may be able to expand to many universities. So my wife and I were able to take variables in our lives and expand them and make something good from those that we chose to work on.
Last year Rob Trucks interviewed current and former D-I basketball coaches Jay Wright, Mike Adras, Charles E. Ramsey, Murry Bartow, and Kevin Stallings as part of his oral history of 49-year-olds. His other work for Deadspin includes interviews with former NHL goalie Clint Malarchuk and the late Dave Duerson, and an oral history of Big Star co-founder Alex Chilton's time in Tuscaloosa. You may e-mail him at trucks@deadspin.com or follow him on Twitter at @tusktusktusk. Theme music and video courtesy Steve Wynn.