Ross Rebagliati was happy to piss into a cup. He was proud to do it. The Canadian snowboarder had just completed an epic Olympic gold medal-clinching giant slalom run, and he welcomed the drug screening. It made things official, in a way. After all, this was early 1998. His still-fringe sport was brand new to the Winter Games, which were held that year in Nagano, Japan. The fact that someone actually wanted to analyze his urine made him feel important. "It was an honor to do the pee test," Rebagliati told me.
He happily provided a post-race sample and assumed he'd never hear about it again. After the perma-grinned Rebagliati and his red beret appeared on the medal stand, he spent the next few days partying. But on the morning of Feb. 11, an unexpected visitor showed up at his door. It was a coach, who ordered everybody out of the room except Rebagliati. You failed a drug test, the coach said. Right away, Rebagliati knew: It was for weed. He felt faint and thought, oh fuck.
Soon he was on a bus to downtown Nagano, where he'd soon learn his fate. And thus began his surreal odyssey. In a span of less than a week, the 26-year-old Vancouver native temporarily lost his Olympic title, got questioned by Japanese police, and became a hero to stoners the world over. On the very next episode of Saturday Night Live, Jim Breuer, star of the new movie Half Baked, portrayed him as a Doritos-munching space cadet who loved listening to Smash Mouth.
We would say today that Rebagliati went viral. Of course, that's assuming we'd be talking about Rebagliati's pot smoking at all. Fifteen years later, his recreational drug use wouldn't have even merited a positive test result, let alone a minor international incident. The World Anti-Doping Agency, the Olympics' drug cops, recently raised the threshold for a positive from 15 nanograms per milliliter to 150 ng/ml. Rebagliati's piss had turned up a 17.8.
The temptation is to look back at Rebagliati's ordeal as a relic of some quaintly ludicrous era of drug prohibition, as culturally remote from 2013 as Reefer Madness was from 1998. That'd be a mistake, though. Times have changed; the war on doping hasn't.
Rebagliati didn't set out to be anyone's toking martyr. He really wasn't trying to make a statement at all. All the dude ever wanted was his medal back.
G/O Media may get a commission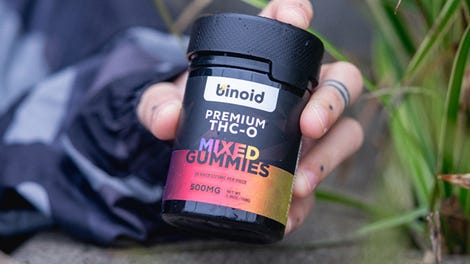 25% Off + Free Shipping
Binoid THC-O Gummies
---
About that medal …
It was never actually taken away from Rebagliati. (According to the Miami Herald, he kept it in his front pants pocket during the whole ordeal.) But for a while, his first-place finish was in limbo. He said he told Canadian Olympic officials the truth: that in preparation for the upcoming Winter Games he'd stopped smoking pot in April 1997. He claimed the positive test must've resulted from exposure to second-hand smoke. Plus, Rebagliati said, "because I had passed my drug tests leading up to it, I had no reason to worry, either. Or so I thought."
As it turns out, two tests conducted by the independent Centre for Ethics in Sport in 1997 had found trace amounts of weed in his system. According to the Toronto Star, both the Canadian Olympic Association and Rebagliati were told the tests came back negative. As the paper's story pointed out, "levels were low enough not to constitute a doping infraction under world skiing rules." According to reports, his urine sample in Nagano contained 17.8 nanograms of marijuana per milliliter. The International Ski Federation, which ran snowboarding's World Cup circuit, permitted up to 15 nanograms per milliliter. But that shouldn't have mattered. This was the Olympics. At the time, pot wasn't even on the International Olympic Committee's banned substances list.
Though the ludicrous comparison kept popping up, Rebagliati wasn't Ben Johnson. A reminder: In 1988, the Canadian sprinter tested positive for steroids. The Star laughably felt the need to clarify this point. "Unlike the anabolic steroid Stanozolol used by Johnson at the Olympics in Seoul," the article said, "marijuana is not seen as a performance-enhancing substance." It was enough to make even IOC vice president Dick Pound sigh. "My opinion is we have been fighting for a number of years against doping and I don't think this is doping," he told reporters.
Don't give Pound too much credit for being reasonable. He'd go on to become the head of WADA, where he would wring his hands over whether or not to ban caffeine. That the positive marijuana test even raised an eyebrow in the first place was itself the fruit of WADA's ban-everything approach to drug use in sports.
When it came time to vote on Rebagliati's fate, Pound, who's from Montreal, abstained. By a 3-2 margin, the IOC executive board moved to strip the snowboarder of his goal medal. The IOC medical commission agreed, voting 13-12 in favor of the measure. When told of the decision, Rebagliati couldn't believe it. "I have worked too hard to let this slip through my fingers," he said in a statement. The Canadian Olympic Association immediately filed an appeal, but on Feb. 12, before the Court of Arbitration for Sport ruled, Rebagliati was taken to a Nagano police station. After all, in Japan, marijuana is treated like a hard drug. A simple possession charge can lead to significant jail time.
Rebagliati sat in a room barely big enough for a table and a few chairs for hours, answering a series of mostly silly questions. "The interpreter, she could barely speak English," Rebagliati remembered. "It was just a nightmare." Here, at least in Rebagliati's telling, is where the story briefly crosses over into Cheech & Chong territory. At one point, an officer asked him about how to smoke marijuana. So, to demonstrate, "I grabbed one of the guy's smokes and broke it up, and rolled it into a joint again with the broken cigarette paper," he said. Mercifully, while at the station, he got word that the Court of Arbitration had ruled unanimously in his favor. He could keep his medal.
Rebagliati recalled that afterward he stood on the police station's steps in a black and green jacket, proudly holding up the gold disc for a group of photographers. He received plenty of support from his fellow athletes, including countryman Eric Lindros. "I just said it was great that you got [the medal] back," the hockey star reportedly told Rebagliati, who also had his room searched by the cops, "and it was unfortunate that you had to go through all that." If there's one person who had it worse than Rebagliati, it was his poor father, Mark. He learned about his son's troubles while on a plane from Japan to Vancouver. "He left there and I was a gold medalist," Rebagliati said, "and by the time he got home I was in jail."
---
Soon, Rebagliati was on a flight of his own. This one was headed to Los Angeles, where he was scheduled to appear on The Tonight Show. While in Southern California, he stayed at the Beverly Hilton and zoomed around in an NBC-provided silver Porsche Boxter. "From jail to palm trees and the pool," he said.
By the day of the taping, on Feb. 16, SNL had already done its Ross Rebagliati sketch. At one point in the bit, Breuer, a master of the stoner squint, told Will Ferrell, who played Jim Nantz, that "they should give me a medal just for showing up on time!" Then, like clockwork, Tracy Morgan showed up as a member of the Jamaican bobsled team.
On The Tonight Show, Leno moronically referred to him as "nickel bag-liati" at the end of the interview, but he otherwise went easy on his smiling guest.
Rebagliati wound up flying back to Canada in time to appear the next day at a rally in Whistler, the resort town outside Vancouver where he lived. After the event, which drew thousands, he went home to his 600-square foot apartment and realized, "this isn't gonna work." Rebagliati had plenty of fun—he was single at the time—but it took him a while to adjust to fame. People started recognizing him everywhere he went. To cope, he lived for a stretch out of a camper by a rural lake. "You kind of go too far one way then too far the other way," he said. "Over time you center yourself."
But even though he'd become an icon, he never actually cashed in. Rebagliati may not have been stripped of his gold medal, but in the view of companies he'd hoped might sponsor him after his Olympic victory, he was untouchable. "Marijuana was just too controversial still," he said. "Combining it with sports was just too much to swallow, corporately."
His life also changed in other ways. Somehow, even though he'd never even been arrested, let alone charged or convicted of a crime, Rebagliati said he landed on the American government's no-fly list. That's proved to be a particularly painful sentence. His mother, Lynda, spends winters in Palm Springs, Calif. Family visits, said Rebagliati, who's now married with two children, are nearly impossible.
After what happened to Rebagliati, the Montgomery Burnsian members of the IOC could've saved face by admitting that the pot wasn't a grievous offense. Instead, they went full narc. In April 1998, the IOC's executive board added marijuana to the banned substances list. The New York Times suggested calling the decision "the Ross Rebagliati Rule."
A year ago, Stephany Lee, an American wrestler, got a one-year ban for testing positive for weed at the Olympic trials. She said she used marijuana for medicinal purposes but had stopped smoking two weeks before the competition. American judoka Nicholas Delpopolo was thrown out of last year's Olympics after a positive marijuana test as well. He blamed "inadvertent consumption" of certain baked goods.
The new Rebagliati Rules may be looser, but the fact that there are rules governing pot at all, despite our foremost drug warrior's insistence that it's not a PED, tells you what the war on doping is really about. It's about control; it's about the Olympics wanting to project a safe image to the viewers back home—brand management by piss cup.
---
In truth, Rebagliati's probably smoked a hell of a lot less weed than his biggest fans. But it'd be wrong to say he's nothing like Jeff Spicoli. "I was always in trouble all my life," Rebagliati said. "I'd forget my jacket somewhere, I'd leave my bike somewhere, or I'd let my car roll down the fucking hill into a house or whatever."
That actually happened. When Rebagliati was a teenager, he tooled up the steep driveway to his girlfriend's place, forgot to pull the emergency brake, and watched his car smash into a neighbor's house. "The Olympics," he said, "was just another thing where at first it looked good and then it was bad."
But over the last 15 years, Rebagliati's learned to enjoy riding life's tasty waves. Since '98, he has been inducted into the British Columbia Sports Hall of Fame, gotten married, sued—and settled with—CTV after the network's snowboarding show Whistler featured a character that was a little too much like him, appeared in Sports Illustrated's "Where Are They Now?" issue, written a book, toyed with running for political office, turned 40. And now, finally, he plans on opening a medical marijuana dispensary called Ross's Gold. He hopes that soon the first store, in Whistler, will be up and running. In Canada, he remains the snowboarder who beat everybody while baked. Why not embrace that persona?
After all, politicians and judges still like to tell him they're lifelong pot smokers. Once, while backstage at a Rolling Stones concert, he swears he smoked a joint with Keith Richards. And to this day, complete strangers still ask to smoke weed with him. "I get that all the time," he said. "It's convenient."
Alan Siegel is a writer in Washington, D.C. Contact him at asiegel05@gmail.com and follow him on Twitter @alansiegeldc.