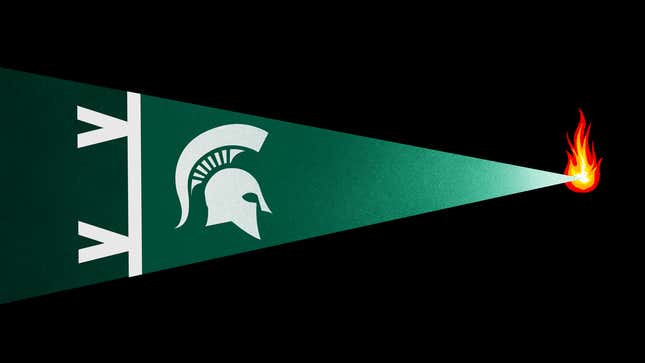 If you've been following the ongoing developments in the Larry Nassar scandal and Michigan State University's sexual-assault crisis, you've recently become familiar with the phrase "#SpartansWill." If you've spent any time around East Lansing, you already knew about it, because it's all over town. You see it on banners hanging from streetlights when you drive into campus—"Who will? Spartans Will," that sort of thing—and the two words saturate the university's marketing materials. It's usually presented as a statement of purpose, something bold and thoughtful: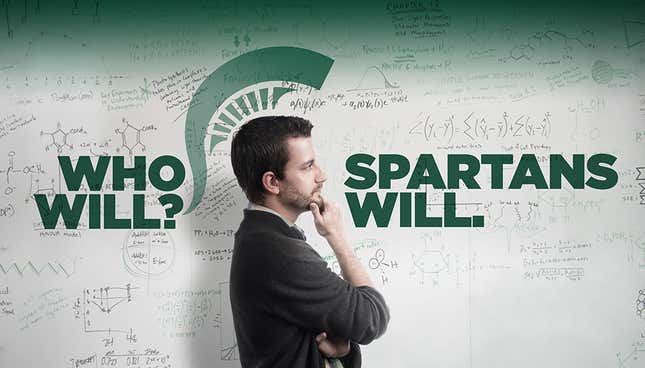 Here's how the official MSU brand guide describes it:

Michigan State University's official tagline is a uniting theme that communicates our value and purpose in a common language. It's a call to action that differentiates MSU from other universities and speaks to who we are and what drives us.

The "will" carries a powerful double meaning. As a verb, it reflects action and the work that Spartans do every day to make a difference. As a noun, it describes the tenacious and indomitable spirit that exemplifies Spartans.
So, yes: the statement is indeed just as meaningless as it appears. That, paradoxically or not, is what makes it so useful—it can describe pretty much anything, and it has. "Spartans Will" has been repeated by so many Michigan State alums and administrators in the aftermath of the Nassar trial and ESPN reports on the athletic department's mishandling of sexual-assault cases that it has, seemingly accidentally, gained a new meaning. In MSU's time of crisis, the phrase has come to signal both an undying loyalty and a willingness to fight against those who threaten the glory of the institution.
There are analogues to "Spartans Will" at pretty much every major university. "We Are Penn State" is one of the closest, both for its strident emptiness and its association with a sexual-abuse scandal that reached the upper levels of the institution. There's also "Bear Down" at Arizona, which was trotted out after Sean Miller came under fire for possibly endorsing the payment of DeAndre Ayton. My own alma mater, the University of Michigan, constantly bombards students and alumni with "Leaders and Best." No industry in America has its slogans more cheerfully and passionately repeated by its customers than higher education. And now that schools have the power to connect with alums through all forms of social media, those slogans have only become more organized and widespread.
G/O Media may get a commission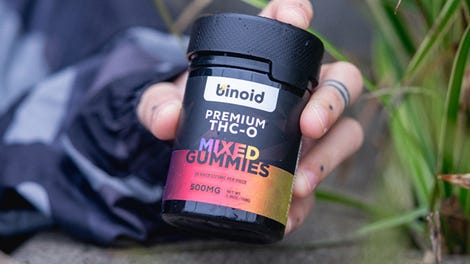 25% Off + Free Shipping
Binoid THC-O Gummies
However wised-up you might be, this constant marketing tends to make an impression. Until I started reporting this article, I hadn't noticed the extent to which Michigan's "Block M"—registered as a trademark in 1982—dominates my post-grad apartment. It's on my laptop, a pillow, a bottle opener, a flag, a blanket, and a pennant. Taken altogether, it's both very normal and a little creepy. The University of Florida's brand guide leads off with a particularly scary summary of this relationship between alum and alma mater: "The brand strengthens you—and you strengthen the brand."
This isn't always a healthy symbiosis. What the brand wants is not inherently synonymous with what you want, but when the brand sets its mind on something—selling merch, winning tax breaks, fighting back against scandals that call the whole cynical enterprise into question—it can readily field an army of loyalists to support the cause. These devoted followers will deflect criticism and attack those who question their alma mater just as loyally as they'll cheer for the team on game day. They'll do so in something like unison. They already know their rallying cry.
---
Studying the devotion (and in some cases, derangement) that defines massive college fanbases is now an entire subfield of psychology. "Feeling a sense of belongingness, and having an identity that attaches you to other people is an important need that people have that needs to be satisfied," Edward Hirt, a professor of social psychology at Indiana University who studies fandom, told me. A big college brings people into a community. Cheering alongside those people seals that bond.
One reason for that connection, Hirt said, is that choosing a college is the first serious independent life choice for many people. Deciding on a school consciously sorts us into a group that we're told is special, and it continues to sway our post-grad lives both personally and professionally. "Once you know that somebody went to the same place that you did, it's an instant connection, and we know it," Hirt said. "It's something that people utilize, and they even tell you at the career centers that that's what you're supposed to do."
Precisely because those connections are so meaningful, they're also ripe for exploitation, even at the most mundane levels. Colleges are eager to slap their logos all over your life, turning a positive association with—for example—a drawing of a Spartan in profile or a green-and-white capital S into a powerful branding tool. "They're giving away those shirts all the time, and there's a reason why that's done," Hirt said. "I mean we're putting it on our bodies and labelling ourselves. It's almost like a tattoo."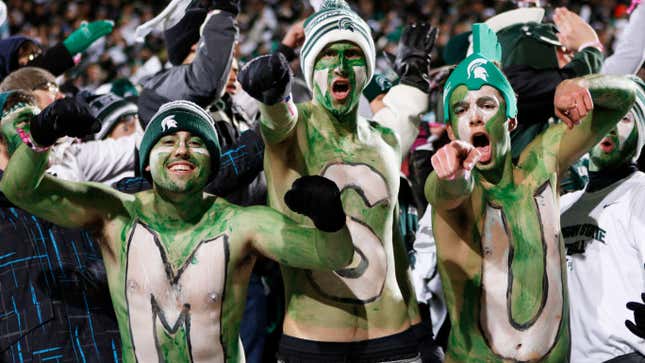 Few things attach people to a university more readily or more closely than sports. And a big win doesn't just strengthen the ties between fans and their team; it also happens to be great advertising. We see this every time a Cinderella team wins some games in the NCAA tournament and subsequently enjoys an increase in both the number of applications and the quality of the applicant pool. Wins generate money for the people running a school. "Even though sports success doesn't make an institution better by itself, it tends to add more pride to it," Hirt said. "And people are going to be more willing to donate to it."
In the two most popular revenue sports—men's basketball and football—few schools anywhere can match the success recent generations of Michigan State teams have enjoyed. The Spartans left this year's tournament earlier than expected, but head coach Tom Izzo has eight Big Ten regular-season championships and seven Final Four appearances since 1998. Current football coach Mark Dantonio has won three of the school's nine total Big Ten titles, breaking a 20-year school drought with his first in 2010.
These wins are profitable and advantageous for the university, but I also don't want to claim that they're an inherently bad or evil thing. Sports are fun as hell, and it's been an especially great time to be a Spartan. As much as I want to goof on myself or others for owning a whole Ikea catalog's worth of our school's merch, nothing can quite replicate the crazy-hyper hours that follow winning a major trophy—or something even more ridiculously triumphant, like an out-of-nowhere come-from-behind win against an in-state rival.
A lot of that joy comes from what psychologists call "basking in reflected glory." It's not logical, but every fan knows how it works—any connection, however tenuous, to an athlete making an awesome play can make their awesomeness feel like your awesomeness. "When your team wins, you feel the same kind of happiness you feel when you did something good," Erin Tarver, a professor at Emory University and author of The I in Team: Sports Fandom and the Reproduction of Identity, wrote in an email interview. "Fans literally identify with the success of their team on the field, such that they can feel its successes as their own."
There are ways to use basking in reflected glory for good. Tarver mentioned the LeBron James Grandmothers Fan Club as her favorite example: the group channels their love for Cleveland's king into volunteering and social work. Spencer Hall's EDSBS Charity Bowl is another case of using sports for positive change, harnessing the fun of college trash talk into an opportunity to give to a good cause. Rationally, I shouldn't take extra pleasure out of knowing that someone donating to charity happened to go to the same school as I did, but I can't help but think that the "Michigan Money Cannon"—Hall's term for the donations from Michigan fans that routinely swing the event—is pretty cool, and not just because it motivates Wolverines to donate more.
In times of crisis, the power of sports can be even more helpful. J.J. Watt used his status as one of the most visible and well-liked athletes in the NFL to raise a staggering $37 million for Hurricane Harvey relief efforts. And in the aftermath of Larry Nassar's sentencing, leaders of the MSU basketball student section—The Izzone—spearheaded a fundraising campaign for the survivors. Using the power of fans' common identity, they raised $7,000.
Author and college sports historian John Bacon cited "THON," the annual dance marathon that raises money for the Penn State Hershey Children's Hospital. In 2012, the first THON after Jerry Sandusky was indicted, the event broke the $10 millon mark for the first time. Charity efforts are also part of smart PR campaigns, of course, but there is an undeniable positive effect that wouldn't be possible without the pride built up by sports teams. "You don't get that without strong school spirit, because otherwise why would you care?" Bacon said of THON. "That's what draws them in."
---
But there's also a dark side to basking in reflected glory, and it tends to come into play when the pleasure of winning is in danger of being taken away. A loss in the Elite Eight last year prompted Kentucky fans to send nasty, threatening voicemails to a referee, including one that said, "You should put a gun in your mouth and blow your own fricking brains out." A study published in 2016 found that Louisiana judges were more likely to issue harsher sentences to juvenile offenders in the weeks following LSU losses, with those sentences disproportionately hurting black offenders.
"Sports fandom can be intensely pleasurable," Tarver wrote. "And like all pleasures, it can be dangerous insofar as people's investment in it leads them to treat others merely as means, or as obstacles, to that pleasure. Highly-identified fans feel their teams' setbacks—whether those setbacks are losses or major scandals—as personal attacks or hardships."
The Penn State community's reactions to Joe Paterno's firing in the aftermath of the Jerry Sandusky scandal represented the most glaring recent showcase of the fury and power of a fanbase that feels threatened. Years after the child sexual abuse at State College came to light, there are still people passionately arguing that ESPN and other media outlets deliberately lied in their reporting, recklessly casting doubt on established facts as activists try to repair the institutional and personal damage done by a sexual predator and his enablers. The reconsideration of Paterno's legacy forced a split in the Penn State community, leading to an intensely personal battle between diehard, dead-end fans and reformers.
Now, Michigan State fans seem to have taken the wrong lesson from Penn State's shortcomings. As the spotlight shifted from Larry Nassar—a serial abuser who will spend the rest of his life in jail—to other reports of sexual assaults in the MSU community, some of the most beloved figures on campus came under scrutiny, including the two men most responsible for the school's glory. No one is going to excuse a monster like Nassar—no one possibly could—but die-hard fans are far less willing to acknowledge the question marks surrounding Tom Izzo and Mark Dantonio's handling of their respective programs. Their unprecedented success works to insulate the coaches from criticism, and it makes the Spartan fanbase vulnerable to manipulation in their school's time of crisis.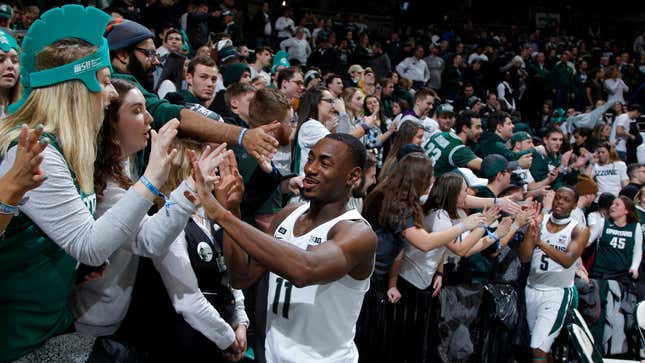 According to Paula Lavigne's reporting for ESPN in January, at least 16 women have been sexually assaulted by football players during Dantonio's tenure, and Dantonio and his staff repeatedly violated university and federal protocol for handling reports of sexual assault by directly assuming disciplinary duties. Lavigne also describes an incident in which former Spartan basketball player and student assistant Travis Walton hit a woman twice at a bar, and another instance of a student reporting a rape by two basketball players. Walton's assault and battery case was dismissed by East Lansing police, and he instead pled guilty to a civil infraction for littering; no charges were filed in the rape case.
While it's fair to say, as many around MSU have, that Lavigne's article had no "smoking gun" unequivocally implicating Dantonio and Izzo, its substance was enough to prompt the resignation of MSU athletic director Mark Hollis. At the very least, the report clearly raises enough questions to call for a tough, independent investigation of who knew what. (Monday, MSU administrators admitted to ESPN that a separate sexual assault complaint involving Walton and two other basketball players would have been "handled differently" were it made today.) But Dantonio and Izzo steadfastly maintain that they did nothing wrong, so a passionate section of the MSU community has risen up to defend their coaches' honor and attack ESPN for its reporting.
A prominent example of that defense, which gained traction in Spartan circles when it was published in February, is a 7,000-word blog post by an alum named Sean Campbell, originally titled "Paula Lavigne Is A Liar" and now titled "(Coloring) Outside the Lines: Deception & Omissions at ESPN, Part 1." (Campbell has yet to publish a part two.) The piece is little more than targeted intimidation, using its length as cover for the fact that it provides no evidence of any consequence. But it's the sign-off that's troubled me most in the month since I first read it:
I am a Spartan.

I love MSU.

You're not going to take that away from me.

Go Green

#SpartansWill
Campbell is not employed by Michigan State, but that excerpt could come straight out of the official brand guide. It displays a worldview that sees any admission of guilt or responsibility as a defeat, and an Us vs. Them mentality that actively opposes anyone trying to bring injustice to light. In this scenario, loving MSU and "being a Spartan" mean allowing the school's most prominent employees to operate without oversight, while ignoring an awfully high number of reported rapes and attacks. Anything else is a betrayal.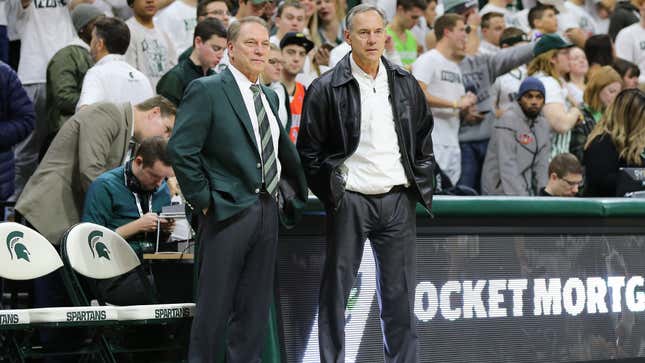 "By and large, what typically identifies people who truly identify themselves as fans is that they're loyal," Hirt said. "You have to be loyal, so you stick with your team when they lose. And of course it's miserable during unsuccessful times and when scandals happens, but in some ways it's a test of your loyalty and your commitment to stick with them and defend them when it's bad so you can revel in their success when they're good.

"It's a badge of being truly a fan," he said. "People take real pride in that."
That pride creates a need for the university's reputation to remain untarnished, and it builds an eager audience for openly institution-friendly reporting, like David Harns' work in the wake of the Lavigne report. The Proud Spartan ethos also feeds writing from East Lansing columnist Graham Couch, who typically covers MSU's coaches with a wide-eyed, hero-worshipping style that unwittingly betrays how well a coach like Tom Izzo understands the benefits of cultivating a strong relationship with reporters. Izzo's savviness is even more apparent in in an ESPN column from MSU alum Jemele Hill, a significantly more astute and skeptical observer who nonetheless openly admits that she gave the coach the benefit of the doubt because he has been friendly with her.
When consumed by an intensely loyal and loving group of fans, this type of coverage helps build a protective wall around the people who are already the richest and most powerful figures in their community. This wouldn't be possible, let alone necessary, if the goodwill cultivated by winning didn't make alums feel like these coaches were as closely tied to them as actual family and friends. When that becomes the default position, though, it can be put to cynical use by, for example, a smart and experienced politician.
Interestingly enough, that's exactly who's currently running Michigan State. Interim school president John Engler, a former three-term governor of Michigan, appears to be using the doubt sowed by people like Campbell, Harns, and Couch to advance a media strategy best described as "Fake News!" Rather than calm its aggrieved fanbase, Engler's attempts at damage control seem predicated on exploiting the strength of its alums' connection to the school to push back against the reporting it doesn't like. (Disclosure: I've met Engler a few times in the past, and am friends with a member of his family.)
In comments to reporters and messages to the student body, Engler has criticized ESPN for its "sensationalized" reporting on multiple occasions, including after a Michigan State win in the NCAA tournament. Here's a portion of his exchange with an ESPN reporter after the Spartans beat Bucknell, via the Detroit Free Press:
"Look at the sexual assaults you guys are dealing with as a company. It's pretty serious. In many ways, their company is one of the worst offenders in the nation. So we have a sexual assault challenge in America today. But for Michigan State, we're dealing with it on our campus."

ESPN reporter Dan Murphy followed up and asked Engler, "Do you not think Michigan State is one of the worst offenders of sexual assault right now?"

Engler answered, "Oh, I think ESPN is far worse than many companies in America today."
It's true that Engler doesn't represent the entire MSU culture—the school's faculty and many of its students opposed his hiring—but he has the loudest microphone, and it's his comments that get coverage. It's too bad, then, that Engler's words thus far most closely echo those of former Penn State president Graham Spanier, who called the scathing Freeh Report, "egregious in its incomplete and inaccurate reporting."

Engler's comments are intentionally divisive not just in a political sense but a practical one—he aims to draw a contrast between Michigan State and the journalistic outlet that has most prominently called for more transparency in the school's handling of sexual assault. Faced with a choice between their own beloved school and a corporation like ESPN, where would a Spartan's loyalties lie?
"When you're attacked, the first instinct tends to be to attack back," Bacon said. "But I don't think that's what Michigan State needs right now, and I don't think it's what Penn State needed either. Fix the problem, handle the business, and move on. Once you start circling the wagons, you risk losing the focus on fixing the problem."
---
It's important to me that you know that this dive into recent Michigan State culture is coming from a place of love, both for MSU itself and for everyone I know who grew up on its campus. Before I went to Michigan, I spent 18 years in green and white. I was proudly present at both Draymond Green's and Kirk Cousins' senior days. The "Little Giants" play against Notre Dame remains one of my favorite sports memories. The Trey Burke steal almost sent me into a full-on existential crisis. That's why it especially worries me to see a university I care about—one that I've loved with the single-mindedness that only a 12-year-old sports nut can know—act so hostile towards its female students, and be so unwilling to examine and improve its shortcomings, all because of a perceived threat to continued on-field and financial success.
All of which is to say that I know it would be both dumb and futile to tell a fan of any college, "Hey, don't care so much about your team." But I also know what it means to lose the broader plot due to my rooting interest. When we treat the desire for, say, more transparency in the handling of sexual assault cases as an attack on our teams, the fighting gets ugly fast. When we perceive a binary between loving our teams and acknowledging that they have failed in some painful ways in pursuing the victories that sustain us both, things become toxic. Fandom that intense can only be damaging.

"People have gotten to the point with a lot of these identities, that they feel super protective, to the point where people can't criticize or do anything that might undermine that affiliation with that institution," Hirt said. "We just see such intense emotional reactions and defensiveness when that happens, it's like reaching at something that's so core to us that we can't be objective. Even sometimes relatively benign criticism is an attack."
It doesn't just fall on fans to check themselves, though. University leaders have a responsibility to use their brands wisely, leading their followers toward positive change instead of aggressive resistance. "Are they going to spend their energy and their time defending the school only, or are they going to try to fix this on campus?" Bacon said.
A school like Michigan State has so much power over such a wide swath of people that it can direct those fans in any direction it chooses. That could be toward positive action, or it could amount to lighting a fire and watching it burn. So far, Michigan State's leaders seem content to choose the latter.