Yesterday, the New York Mets announced that struggling pitcher Matt Harvey would be placed on the disabled list with thoracic outlet syndrome (TOS), an ailment that can deaden a pitcher's arm by compressing blood vessels between the collarbone and the first rib. Harvey could opt for a nerve-block injection that could allow him to keep pitching, but he will eventually need a surgery that comes with a four-month recovery period. But what happens after that?

TOS isn't quite the bogeyman that Tommy John or rotator cuff surgery are, but it still brings plenty of uncertainty. A list of pitchers who have recently had surgery to alleviate TOS includes Jeremy Bonderman, Chris Young, Noah Lowry, Josh Beckett, Shaun Marcum, Kenny Rogers, Jaime Garcia, and Chris Carpenter.
Some of those guys had their careers done in by TOS. Bonderman never regained the form that once made him one of the more exciting pitching prospects in baseball, Carpenter made six more starts after the procedure but had to retire when his symptoms returned, and Noah Lowry never threw another pitch. Shaun Marcum had a host of other injuries that helped derail his career, but TOS certainly didn't help.
If you're looking for positives, the 34-year-old Beckett actually bounced back from the injury fairly well in 2014. He made 20 starts for the Dodgers and posted a 2.88 ERA, but was eventually undone by a torn labrum in his hip. Rogers turned in seven more solid seasons after getting the surgery in 2001, and Garcia has acquitted himself well since getting the procedure in 2014.
So where does that leave Harvey? Every pitcher's body reacts differently to injury, and there's no reliable way to predict whether Harvey will end up in the Carpenter-Bonderman-Lowry camp, or be able to bounce back quickly like Garcia and Beckett. He's still just 27, so he has his youth going for him, but it's also worrying that this is now the second major injury in his pitching arm that he's has suffered. Tommy John surgery and TOS aren't death sentences, but when they hit the same pitcher in the span of two years, it's hard to imagine that pitcher escaping any lasting effects.
G/O Media may get a commission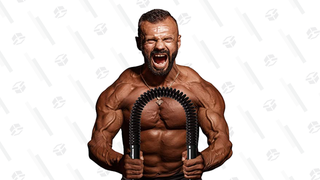 10% off
Zenooze Boa Power Twister