Notice anything strange about Letsrun's listing of the world-leading performances from last weekend?
A Look at The New World Leaders From Last Week

110h: 13.08 Omar McLeoud JAM – Drake Relays
400: 44.08 Kirani James GRN – Drake Relays
800: 1:43.37 Nicholas Kiplangat Kipkoech KEN – Nairobi
Steeple: 8:22.31 Matt Hughes – CAN – Stanford

1500: 4:04.47 Linden Hall AUS – Stanford
Steeple: 9:27.09 Lalita Shivaji Babar IND – New Delhi
5000: 14:58.60 Sally Kipyego KEN – Stanford
Pole Vault: 15′ 9¾" (4.82m) Jenn Suhr USA – San Marcos, TX
Hammer: 246′ 5″ (75.11m) Gwen Berry USA – Memphis, TN
No? It's this: Steeple: 9:27.09 Lalita Shivaji Babar IND – New Delhi. A world-leading time from a woman I have never heard of from a country with little-to-no distance running tradition in a niche event that isn't even contested that often in Kenya, the home of the steeplechase, at a meet held in India. Six different head scratchers there.
It is very early in the season and 9:27 won't be on top for long. (The fastest women's steeple in 2015 was 9:05.) But even as a pre-season blip, it sent me scurrying to Google, where things got even curiouser.
Babar grew up in a remote farming village in rural India, informally embarking on her distance-running career by running the four kilometers to school and back, says Indian Athletics. That has an East African ring to it, but while running to school barefoot in Kenya has given rise to a country that dominates distance running, so far running to school in India has just gotten runners to school on time.

The next thing we hear about Babar is that at 16 years of age, she won a gold medal in some sort of 2005 Indian U20 long distance event. What the distance was, or her winning time, is unknown. Babar's IAAF profile lists an indoor 3000 meter performance of 10:22:27 accomplished in Hanoi in 2009. So, at age 20, Babar wasn't great on a world scale, but wasnational class in a country that doesn't do much distance running.
G/O Media may get a commission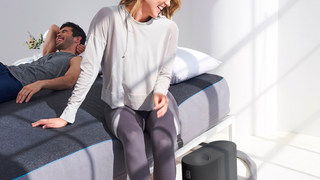 Eight Sleep Pod Cover
Next we hear (again according to India Athletics), "Babar completed a hat trick of titles at the Mumbai Marathon in 2014 and set a new course record amongst women by clocking 2:50:31." (To be clear, the Mumbai Marathon has a division for Indian men and women, separate from the elite field, which is dominated by East Africans.)

Babar won the Indian women's division of the 2012 Mumbai Marathon in 2:53:35. She won the Indian division again in 2013 in 2:53:42, and completed the "hat trick" in 2014 with a national record of 2:50:31. By comparison, Valentine Kipketer of Kenya took top honors at Mumbai that year in 2:24 and change.
Just after this three-peat in the marathon in January 2014, Babar "switched to running the 3000m steeplechase with the focus to win medals in the Commonwealth Games and Asian Games." This coincided with her sponsorship by Anglian Medals Hunt, a straightforwardly-named sports management organization formed in 2013. Why Babar or her managers saw the steeplechase as a likely avenue to medals, and why Babar was the candidate to do it, is unknown.
It's extremely unusual for a marathoner to drop down in distance and take up the steeplechase, an event that requires the speed and technical skill to clear three barriers and a barrier-plus-water-hazard per lap for seven laps. The best steeplers are very strong 800/1500 meter runners who have a gymnast's sense of timing and coordination. Nothing in Babar's history suggests she had either of these (though she did have a relationship with a Belarusian coach, Dr. Nikolai Snesarev, who began coaching the Indian national team at around the same time).
After a scant eight months of steeple-specific training, Babar won a bronze medal at the 2014 Asian Games in Incheon, South Korea, posting a 9:35.37. That time would have been the sixth-fastest in the U.S. in 2014, among a much larger pool of women who'd been training for the event for years and had much faster flat track 1500- and 3000-meter times than Babar. For an Indian farm girl and a 2:50 marathoner, a roughly 5:08-minute/mile steeple is really a step up. An incredible improvement.

According to Indian Athletics:
"In the 2015 Asian Athletics Championships, Babar won the Gold medal, clocking 9:34.13 and broke her own personal record, the National record and the Championships record. In the process, she also qualified for the 2016 Rio Olympics."
On a roll, Babar posted that 9:34 in June, and two months later, in August 2015, ran an internationally-competitive 9:27:86 at the Beijing World Championships, making her the first Indian woman to ever qualify for a World Championship final. Her IAAF profile indicates she ran the January Mumbai Marathon in 2015 (2:38:21) and 2016 (2:41:55), probably as off-season training runs. Both represent significant improvements from her pre-Snesarev and pre-steeple attempts.
Three months after the Mumbai Marathon, Babar ran the world-leading 9:27:09 at a meet in New Delhi. At that meet, her training partner, Sudha Singh, posted the third fastest time in the world so far this year—9:31:86.