He had more turnovers than shot attempts. The whole performance was bad—sickeningly bad, broadly and in nearly all its details—but the main thing to know is that in last night's Game 5 elimination, Houston's James Harden conveyed the ball to the Golden State Warriors more times (13, a playoff record) than he conveyed it to the hoop (11, only two of which went in). If he'd fallen down an open manhole en route to the arena, I'm not so sure it would have been a worse outcome for him or the Rockets.
As ESPN's broadcast crew of Mike Breen, Jeff Van Gundy, and Mark Jackson pointed out several times, Warriors coach Steve Kerr had given his players an order to crowd Harden whenever he "danced"—whenever he dribble-dribble-dribbled in place, as he does. That's a smart defensive adjustment, after how Harden torched the Warriors in Game 4; it removes the step-back jumper from his options and gives him less time and space to manipulate his defender's balance and timing. Still, with all due credit to the Warriors, an invasion of Harden's personal space doesn't fully explain 13 turnovers. Sudden-onset blindness wouldn't explain 13 turnovers. Fucking Pepperidge Farm is looking at the box score this morning and going, "Damn, that's too many fuggin' turnovers."
It was excruciating. It was like a Ben Stiller movie. He had five turnovers in the first quarter, and I thought, Okay, that was a dismal quarter, but they're up five, and now he'll get it together. At halftime he had eight turnovers and the Warriors led by six, and I thought, Well damn, this is a nightmare, but it'll just be an interesting footnote if he settles down in the second half and the Rockets put up a good fight. By the end of the third he had 11 goddamn turnovers and I was on the phone with the cable company to find out what the hell was wrong with my TV. He just kept turning it over!
What even is this?
That's not him being crowded in an isolation set. That's his hand turning into a slip-'n'-slide.
G/O Media may get a commission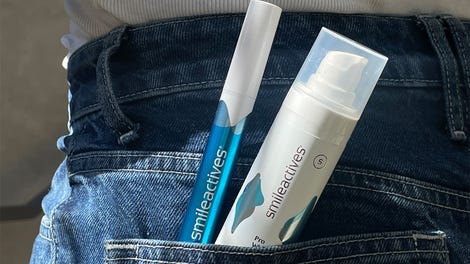 58% off
Whitening Powerhouse Pen & Gel Duo
Look at the turnover at around 0:38 in this video, which I urge you to watch in its entirety, if only so that you will recognize the symptoms if any of your loved ones catch whatever the hell disease this is:
What. And why. Who the hell are you, bad basketball man wearing James Harden's skin and uniform?
Even when he wasn't taking a taxi to the Spalding factory to slap Andre Iguodala's home address on entire shipments of official NBA basketballs, the results weren't much better. Here's him missing the rim by a furlong on the kind of shot he's been burying for three years:
Woof. On the other hand, it's a pretty dead-on impression of my kid! He's six.
We've talked before about the shit Harden catches from certain corners for a style of play many find aggressively off-putting, but he's been brilliant for the Rockets, and deserves more individual credit for how far his team got than anybody not named Russell Westbrook. Morphing into Austin Rivers for one night is an undeservedly awful and humiliating way for his season to end. But, it's over now, and all he can do is move on—to the arduous work of reclaiming his body from fucking Pazuzu.
Photo via AP
---
Contact the author at albert.burneko@deadspin.com.