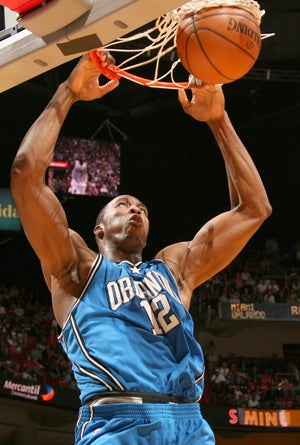 My Christmas holiday summed up in five words or less: Clementines, Toblerones and beer. No joke. A million thanks to Alphonso Jackson, Nancy K. Kopp and, of course, Rick Chandler for filling in while I was gone. Your 'Body Shop' gift certificates are in the mail. Now, on to the NBA Closer!
• By The Moon And The Stars And The Sky. I swear, every Saturday "NBA Closer" I write includes a picture of Dwight Howard dunking, some ridiculous stat-line and a Magic victory. Seriously. Howard had 29 points and 21 rebounds and Turkoglu capped a 22-point night with a huge 3-pointer with 11 seconds left as the Magic survived a career high 48 from Wade to beat the Heat 121-114 in OT. The win marked Stan Van Gundy's first return to South Florida since his — monster finger quotes here — "abrupt resignation" two years ago.
• Aaliyah Was Right. The Blazers are too young. The Pistons are too old. Yes yes, we know. Super sophomores Brandon Roy and LaMarcus Aldridge combined for 43 points to push the Blazers over the Wolves for Portland's league-leading 12th consecutive win. Meanwhile in another NBA arena, Billups, Rasheed and Rip Hamilton — all old — scored in double figures to give the Pistons their season-high seventh straight victory as they pulled past the Pacers, 114-101. Detroit has now won 14 of their last 16 games.
• The Power Of Zen. Kobe scored 31 points before sitting out the fourth as his Lakers beat the Jazz 123-109, giving Phil Jackson his 938th regular-season victory and a share of seventh place with Red Auerbach on the career list. As Naismith would have it, P-Jax will look to pass Red when the Lakers host the C's on Sunday.
• Yoink! Jason Kapono scored 10 of his 15 points in the fourth quarter to lead the mighty Raptors past the dismal Spurs 83-73. San Ant shot just 32 percent from the floor and coughed the ball over 19 times. Holiday Nightmare Ant nods his mandibles in approval.