Gonzalo Higuaín's transfer from Napoli could have ended happily for both parties. While Napoli is right to feel a bit miffed after losing their best player to Juventus, the one team who finished above them in Serie A last season, receiving the third-highest transfer fee in history for a 28-year-old is fantastic business.
After all, look at what happened the last time Napoli sold a high-priced striker. In 2013 Napoli offloaded Edison Cavani to PSG for €64.5 million, and then turned around and bought Higuaín from Real Madrid for €39 million. Higuaín submitted three great seasons for Napoli, and then was sold to Juventus for €90 million. If you're not one of the five or ten richest clubs in the world, losing star players is just the way life goes, and over the past decade Napoli has historically made the best of it.
But this transfer devolved into a bitter war of words, with Napoli president Aurelio de Laurentiis most recently invoking Naples's fight against the Nazis during World War II in a sharply worded open letter to Higuaín.
Let's go back to the beginning.
The Higuaín-to-Juventus transfer has been in the works the entire summer, with every day bringing a new report on its status. Things began really heating up a week ago, with all reports pointing towards an agreement being reached imminently, and a deal was ultimately struck on Tuesday. But a few days before that, with negotiations in the final stretch, de Laurentiis called Higuaín, essentially, a traitor. Via Sport:
"I have not spoken with Higuain these past days, but if he goes to Juventus, he would be betraying himself.

"One doesn't approach one of the ends of the San Paolo stadium, where the team's colours are represented, to sing the 'Song of the Lover' (a popular club anthem) and later goes to their historical rivals.

"It would be a paradox because Juventus and Napoli are like a dog and a cat."
De Laurentiis went on to re-iterate what he's said all along, which is that Higuaín could only leave Napoli if some team triggered his very expensive release clause. Thus, his words served both as an attempt to convince Higuaín to stay—"You will be loved by the supporters forever!"—and as a signal to the fans that it would be traitorous for Higuaín to leave.
G/O Media may get a commission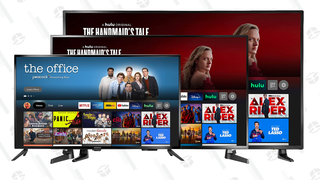 Up to 44% off
Prime Early Access - Insignia Fire TVs
And the charge that Higuaín is a disloyal mercenary went mainstream, with Napoli fans burning his jersey and ripping his likeness off billboards, and even famously loyal one-club-man Francesco Totti weighing in on the state of modern Italian soccer. Via Gazzetta dello Sport:
Maybe this is the difference between me and everyone else. There aren't many athletes who follow their hearts. They choose go somewhere to win more and earn more money. They're like gypsies.
Frankly, it's a strange criticism to tag Higuaín with. Besides the inherent grossness in rejecting players exercising their agency, Higuaín came up through River Plate's youth system, spent six-and-a-half years at Real Madrid, and the last three at Napoli. He's not a club-hopper nor a lifelong Neapolitan, and Juve is a rival of Napoli's not the rival. It's pretty hard to fault the guy for wanting to star on the one team with a legitimate chance of completing the Serie A, Coppa Italia, and Champions League triple next season.
It seems that Higuaín didn't appreciate de Laurentiis's conduct. In his first statement since the transfer, he thanked the Napoli fans, and his former coach and teammates, but pointedly noted that he transferred to get away from de Laurentiis. Via ESPN:
"I've remained silent in recent days, but these have been three amazing years and I can only say thanks for all the love I was given, but this was a decision I took for my own reasons," he said. "I can understand that they are angry with me and I've seen the insults, but it is something I had to do and I'm happy about it.

"[Napoli coach Maurizio] Sarri made me grow and he has been a great coach for me, and if he's angry about me leaving without saying goodbye to him, then I apologise — I can only thank him.

"It was my decision to leave, but it was [De Laurentiis] who pushed me into making it. I'd like to thank the fans and my teammates, but not De Laurentiis. I no longer had a relationship with him; I couldn't stand another minute with him."
Even if Higuaín truly does only have a beef with de Laurentiis, a beef with de Laurentiis is a beef with practically the entire city of Naples. Napoli went into bankruptcy in 2004, and was placed into Serie C by the Italian Football Federation. De Laurentiis became president of the club and swiftly guided them back into Serie A, and they soon became a Serie A contender and regular European participant. Perhaps more importantly, as Italian clubs around them continue to wallow in debt, Napoli has been consistently profitable over the past decade.
Which brings us to the Nazis. Responding to Higuaín's claim that he left Napoli because he couldn't "stand another minute" with de Laurentiis, de Laurentiis posted an open letter on Napoli's website. He begins by recounting all the time he and Higuaín have spent together, before invoking the proud residents of Naples. Translation via ESPN:
"Dear fans of Napoli, dear lovers of football, I've read Gonzalo Gerardo Higuain's comments in the news conference arranged by Juventus and I would like to touch on how he said that the reason he left was my fault," De Laurentiis wrote.

"I've reflected a long time as to whether these remarks warranted a reply, since it is clear to everybody what the truth actually is. In the end, I thought it was best to say the following, to go on the record in future. This is my reply.

"1) If Mr Gonzalo Gerardo Higuain was so annoyed by my presence, it took him many years to realise it, unless he is a false person and a great actor — but I would exclude this last eventuality because I am an expert when it comes to actors.

"2) We spent a lot of time together, even recently, for example on April 15 when we tried to reduce his four-game suspension while we were in the hunt for theScudetto. I can assure you that on that day, Gonzalo was very serene and did not show any signs of suffering in my presence, as the people who were with us can testify.

"3) Why is it that his agent never showed any impatience when we met to discuss his contract renewal, and this happened a lot in this last year? If they were truly so intolerant of my presence, they would not have spent hours discussing money — lots of money — with great interest and willingness.

"4) Does it not seem a bit shameful when your agent says that the team you were playing in, the team who put you in a condition to score 38 goals, were not good enough? Is it not a disgrace to say, basically, that Gonzalo's teammates were rubbish, considering that Napoli were the team who had the most number of chances in Italy — a fundamental condition to allow a striker to score many goals?

"5) Trying to explain that moving into a new family was my fault is disrespectful to the people of Naples. If Higuain had read the history of Napoli, he would discover that this city is the only one to have freed itself from the Nazis by itself, before the Americans arrived and found the city free already when they marched in. You can betray these people if you have no shame, but you cannot take the piss out of them."
If he wasn't already, Higuaín is now the second most hated man in Naples, juuuuuust behind Adolf Hitler, which is a sad end result for Higuaín's three years with Napoli. He was the club's leading goalscorer for all three seasons—including setting the Serie A goalscoring record this past season—and helped position them well for the upcoming season, where they will enter the Champions League in the group stage. The money from his sale will probably be reinvested wisely, and Ajax's Arkadiusz Milik will reportedly be signed imminently to pair with Manolo Gabbiadini up top.
But Higuaín is gone, he will be booed vociferously upon his return to Stadio San Paolo this season, and he'll probably win the scudetto and perhaps the Champions League. Such is life.