Here is a report from a Russian news site (Google translated version here) that claims I intentionally damaged my Sochi hotel room, and as a result have been stripped of my credentials to cover the Olympic games. This was news to me, because I've never been to Sochi in my life.
Ohtani has the WBC, but will Mike Trout ever lead the Angels to a championship? | Agree to Disagree
It took a long, bilingual game of telephone to get to this point, so let's puzzle it out—and maybe thaw frosty Russo-American relations at the same time.
1. On Tuesday, I compiled a bunch of journalists' tweets from Sochi for this post—odd toilets, broken and dirty hotel rooms, stray dogs, and one report of a reporter's hotel room doorknob falling off.
G/O Media may get a commission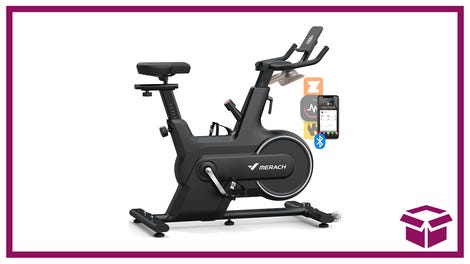 14% off + Coupon
Merach Indoor Cycling Bike
2. On my way out of my apartment that morning, my own doorknob fell off, because I live in an old decrepit building where I can't turn out my bedroom light without wedging a book against the switch. So I tweeted the photo.
It was a joke. This is what I get for making fun of Sochi, and I shouldn't do it anymore because look at my own place. Folks seemed to understand.
3. The next day, the wildly popular @SochiProblems Twitter account sent out my photo—but didn't link or RT my tweet—and made it appear as if the picture was taken in Sochi.
@SochiProblems has become the runaway meme-hub of the early games. Run by Alex Broad, a 20-year-old journalism student from Toronto, it's garnered 340,000 followers in under a week—more than the official Olympics Twitter account. But it's been iffy with its sourcing. A number of older photos that aren't from Sochi or even from Russia have made its way onto the feed, many of which have already been debunked.
4. Later that day, CNN asked for permission to use my photo. I told them it's not from Sochi. Two days later, I told Reuters the same thing.
5. Russian Twitter users took this as an admission that I faked the photo. I was tweeted many angry things in a language I don't understand.
6. On Friday, Russian news site DNI.ru published an article about foreign journalists resorting to, as the headline reads, "Cheap sensationalism about the Olympics." It is one of many local attempts to debunk the false viral images and claims about the Sochi games. There, in the second paragraph, I made an appearance. Via Google translate:
"So, was recently stripped of accreditation editor of American sports publication Barry Petcheski who tore handles at the hotel, photographed them and lecturing in my social networks."
From "tweeted a photo that isn't from Sochi" to "busted up his own hotel room and got kicked out of the Olympics" is at least three giant leaps. (I asked one Russian journalist how reputable DNI.ru is. "Not very," he said.)
But a search for my name in Cyrillic—plus the mentions on my Twitter feed—convinces me that I'm public enemy No. 1 in Russia, or at least No. 2 to the guy who sent out the photo of the half-toilet. On various blogs, I'm accused of spreading hoaxes, of being caught in a lie, and my favorite, of being a member of the "Russian liberals" out to smear the Putin administration.
We're really not so different, the U.S. and Russia. In their overzealousness to criticize the host city for some very real failings, American commentators have passed along some fakes. And in their overzealousness to defend Sochi, Russian commenters have created some international Russophobe conspiracies. I guess the lesson is this: No matter where you live, don't believe a damn thing you see online.