For about two hours yesterday, before he signed with the Dolphins, TE Jordan Cameron was returning to the Browns. It was a "done" deal, according to multiple respected NFL reporters:
It was undoubtedly a reassuring get for the Browns, who have had a nightmare last couple of months. Cameron has the ability to become one of the NFL's best pass-catching tight ends, if he can stay healthy—he's suffered three concussions in his last three seasons, missing time with each. He had a rough contract year, which was potentially good for whoever would sign him—he'd come at a bargain and ideally be a focal point of any offense.
But soon after it was reported he was returning to Cleveland (the local paper published a story and everything) and we all moved on to the next batch of chum in this free-agency feeding frenzy, this happened:
G/O Media may get a commission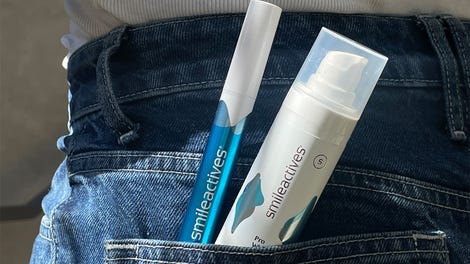 58% off
Whitening Powerhouse Pen & Gel Duo
Sure enough, Cameron's a Dolphin. How did this happen?
It's pretty clear what went down, and it's not that the reporters who had him going to Cleveland were wrong—they merely got used. Cameron surely agreed to terms with the Browns, but before signing a contract, someone leaked the terms to three top NFL reporters, simultaneously (note that all three tweeted out identical info within a four-minute span). It's hard to imagine that "someone" being anyone other than Cameron's agent.
Cameron was in Miami all day yesterday, negotiating with the Dolphins, and as the Herald reports, he was there after the news of him agreeing with Cleveland broke. The leak of the terms of his Browns deal served as an ultimatum: Here's the best offer we've got right now. Can you top it? The Dolphins apparently did.
Coverage of NFL free agency feels different this year. Faster and more massive, serving an audience that's clearly ravenous for news and rumors. It's gotten to the point where the NFL felt compelled to warn teams to chill out with the leaks.
This madness facilitates the use of the media as a tool for negotiations. Could Jordan Cameron's agent have called up every team he'd been talking with and told them what he had on the table from the Browns? Sure. But it's faster just to text a couple reporters and see it all over Twitter within minutes. And, more than that, taking the agreement public added a sense of urgency to the Dolphins' decision that backroom negotiations couldn't offer.
This isn't a new tactic, but it seems more common now; we've seen it multiple times this offseason. Every media report that Marshawn Lynch was considering retirement was an attempt to convince the Seahawks that he'd walk away from a below-market deal. The report that LeSean McCoy didn't like the idea of living in the city of Buffalo vaporized the moment the Bills offered $26.5 million guaranteed. Frank Gore was reported to be going to the Eagles—until the Colts read the report and offered more money. Yesterday morning, as DeMarco Murray was on a flight to Philadelphia, it came out that he "had intent to sign," a phrase that perhaps best translated as "If the Cowboys want to match this offer, they've got until the plane lands."
Once upon a time, you wouldn't find out where free agents landed until a contract was signed. Those days are long gone, but the immediacy of Twitter and the rise of the NFL as a year-round sport have made reporters increasingly twitchy. It's that old "be first, or be right?" conundrum—Cleveland.com was compelled to write up a story on Cameron re-signing with the Browns, even as a clearly hesitant Mary Kay Cabot, replete with sources inside the front office, made clear that a deal was not finalized. Mike Garafalo of Fox Sports later reported that the Browns hadn't even heard back from Cameron on their last offer.
But if you're in the business of breaking personnel moves, and Jordan Cameron's agent texts you to say Cameron has agreed with Cleveland, you're reporting that. Yes, even if it turns out you're merely being used to squeeze a couple extra million dollars out of another team. It's a risk the likes of Rapoport, Getlin, and Schefter simply have to accept if they want to keep getting those texts from agents.
No value judgments here—it's simply the way the NFL works. And if reporters are fine with occasionally looking foolish, and agents are wise enough to use every negotiating tool available, and teams don't begrudge both sides' right to leak, then football fans are just going to have to live with the omnipresent threat of bad information.