Rob Gronkowski—whose skull houses one 14-oz. official NFL "The Duke" football, and whose circulatory system is chiefly responsible for the delivery of Natural Light—has been incredible for the last few weeks. Tom Brady's missed his best receiver at full speed, and they're making up for lost time. Gronk's been the best tight end in the league, with 71 targets, 49 catches, and 663 receiving yards. He can't be stopped right now, and he's responsible for the Patriots' offense improving as a whole.
Remember back in Week 4, when the Chiefs wrecked the Patriots 41-14 Monday night, Brady looked washed up, and New England was all but dead? That loss was the turning point. After four games, Brady hadn't had more than 249 passing yards in any one game, had a completion percentage of 59.1%, and threw four passing touchdowns and two interceptions. Though his accuracy wasn't particularly shocking—he had a 58.8% completion percentage through four games last season—he didn't look like the Brady we knew. Wide-open passes were off, and he was getting knocked on his ass; defenses sacked him nine times in the first four games. Per Pro Football Focus, New England's blocking allowed 38 quarterback hurries in the first four games (and 27 in the remaining five).
Before we talk about the Gronk effect, focus on the messy offensive line. After shipping versatile left guard Logan Mankins off to the Buccaneers in late August, New England essentially held open tryouts until someone stepped up. At one point, the team started practice-squad body Jordan Devey. Jordan Devey should not start. The Patriots kept rotating their guard and center positions, amid minor injuries to Dan Connolly and Ryan Wendell, hoping something would stick. (In the meantime, Nate Solder and Sebastian Vollmer basically stayed at the tackle spots.)
Finally, in Week 5's game against the Bengals, the Patriots had a line that wasn't total garbage: (from left to right) Solder, Connolly, Bryan Stork, Wendell, and Vollmer. This group did fine, allowing one sack; Brady threw just five of his 35 attempts under pressure. The Patriots won handily.
Where does the 25-year-old football beef-man factor into this improvement? Though Gronk said he was fully healthy and ready to play as much as possible from the beginning of the season, the team took caution with him. The tight end wasn't on the field regularly in the first four games. His snap counts (out of all offensive snaps): 36/86, 28/67, 46/77, 31/50. With limited reps, he still had 13 catches on 26 targets for 147 yards and three touchdowns, including one very sad Gronk spike.
In Week 5, Gronk's role changed, somewhat. As the offensive line changed, the tight end's snap count increased dramatically, with 69 snaps on the field. However, Gronk was only running routes on 31 one of those; on the other 38, he was responsible for blocking. He still caught six passes for 100 yards and a score. (That kind of adjustment is common for the Patriots depending on the team they're facing; they gave Gronk similar snap splits last season when facing the pass rushes of Pittsburgh, Denver, and Houston.) Stevan Ridley and Shane Vereen were the focus here: They shredded the Bengals' front for a combined 203 yards and a touchdown on 36 carries. Brady and his inexperienced line had a lighter workload, and New England won handily.
Things were looking up. So, naturally, Ridley tore his ACL in Week 6. At this point, the only thing left was to lean on the pass. In Week 7 against the Jets, Gronk's blocking duties lessened; he took 39 snaps on passing plays as opposed to 16 blocking. Stork missed two games with a concussion and the offensive line had another switch, with Josh Kline coming in at right guard and Wendell switching to center. (Devey got a start at left guard in Week 7, and was bad, once again.) Though the Jets outgained the Pats by 100 offensive yards, they lost when Nick Folk's last-second field goal attempt was blocked, because the Jets can't have nice things.
The true breakout—the performance that confirmed Gronk could once again keep scoring as long as Brady kept throwing at him—happened in Week 8 against a swooning Bears squad. Gronk saw 21 snaps on passing plays, which might seem low, but that's only because the Patriots had a 38-7 lead at halftime. He caught all nine of his targets for 149 yards and three touchdowns. Gronk was truly back.
The split in this tweet isn't a coincidence:
Those first 37 targets came in the first five games of the season. As Brady's received more time in the pocket, and as that's allowed Bill Belichick and Josh McDaniels to increase Gronk dosage, the protein monster has earned a bigger chunk of the gameplan.
Gronk doesn't have much competition from receivers for targets, anyway. Kenbrell Thompkins was cut after four games; Aaron Dobson's faded into a healthy scratch; Julian Edelman's better as a slot receiver, as he can get smothered when he lines up outside; and Danny Amendola's been completely shut out in multiple games. Brandon LaFell is the only other guy who's developed into a reliable target. Brady trusts the LSU alum enough as an outside receiver, and at the very least, he demands coverage so defenses don't completely suffocate Gronk. LaFell had his best game of the season against Chicago, catching all 11 of his targets for 124 yards and a TD.
---
Gronk's physical advantages are obvious by now. He's 6-foot-6 and built like a brick shithouse, has hands the size of hubcaps, wrecks dudes when he's asked to block, and punishes anyone unlucky enough to come face-to-face with him in the open field. Look: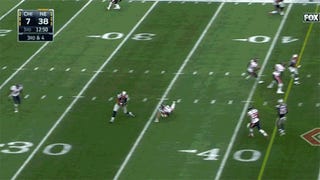 (Not shown in the GIF: Gronk, with cornerback Al Louis-Jean latched onto him, has enough strength in his lower body to launch himself into the end zone. With another human holding onto him.)
The Patriots haven't changed how they used to use Gronk before his injuries, just how much. If he's lined up on an end, he's running across the field and exposing zone coverage. If he's in the slot, he'll give his matchup a legal shove before going on his way—he's one of the few guys in the league to have the size and leverage to fly past a defensive back without getting bumped, as it's basically impossible to use bump and run coverage on Gronk. In the red zone, he might line up as an outside receiver, taking advantage of the matchup against a much smaller cornerback. (With tight end Tim Wright showing up as a decent red-zone option, the defenders closest to the ball still have a receiver to deal with.) Safeties might slide over for help, but with Brady's fast release, it's hard for them to make it in time. All of these principles are just as unstoppable now as they were during Gronk's breakout years—they're still exploiting his fundamental hugeness, for which there is no good answer. It's a tired song, but Gronkowski's only real weakness is his health.
Enter the Winter of Gronk. Gronkowski had his 2013 season cut short by then-Browns safety T.J. Ward., who blew up the tight end's knee and gave him a concussion. Sunday, Gronk and Ward met for the first time since that game, and the Broncos mostly stuck Ward on the tight end. Maybe part of it was psychological: early in the game, Ward went to hit Gronk low as he went up for a catch, and Gronk dropped it, unharmed. The coverage eventually unraveled, though, and in the fourth quarter, with a 16-point lead, Brady pump-faked, found Gronk open, and threw it as Ward closed in to deflect the pass or at least hit the tight end. That didn't happen, though: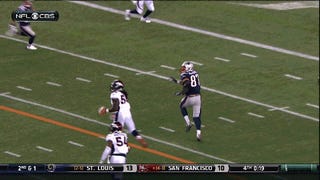 Gronk's one-handed catch with his braced arm was a perfect image of his current state: a return from major injury, yet still pushing his body to its extreme for a dazzling, unnecessary play. (Remember that he re-broke his arm on a pass out of bounds.) This is Gronk's game, and even after suffering its consequences, he hasn't changed.
Image by Sam Woolley