In O'Bannon vs. NCAA, the defendants made a stunning claim. Collegiate athletes cannot be paid for appearing in televised games, the NCAA argued, because those games—like, say, the Vizio BCS National Championship—are First Amendment-protected news programs, and not commercial broadcasts.
NCAA chief legal officer Donald Remy said in a statement:
"The Court made clear that plaintiffs' claim can only survive if they produced evidence that such broadcasts are 'commercial,' that is, that they are product advertising. Plaintiffs, unsurprisingly, have failed to do so."
This, to a non-legal mind, seems patently insane. The plaintiffs' lawyers in O'Bannon vs. NCAA: This One's For All the Tostitos think it's nuts too. In an expert report filed on behalf of the plaintiffs this week, sport media consultant Edwin Desser argues that under no conceivable rubric could a sports telecast be considered "non-commercial." Newsworthy, yes, but not an actual news program.
G/O Media may get a commission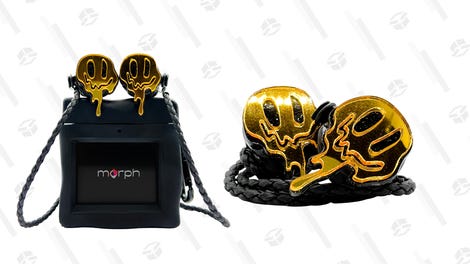 morph audio
Morph Earphones
Desser's full report can be found at bottom, but I want to draw your attention to some raw numbers he compiled. He logged not only every commercial during ESPN's broadcast of the 2014 BCS title game, but also in-game sponsor appearances. (Think stadium signage, logos appearing on graphics, "the Taco Bell Instant Replay," and the like.)
Desser noted 120 separate commercials spanning 1:02:15, or more ad time than actual game time. On top of that, add the hours that the camera found a billboard, or apparel logo, or even the Vizio-sponsored first-down markers. Barely a second went by that an advertisement didn't appear on this "non-commercial broadcast."
It's much the same in basketball. A study of the 2011 NCAA tournament found an average of 51 minutes of ads per game, up 2.5 minutes from five years earlier.
Desser's report marshals a series of arguments as to why sports broadcasts aren't news programs. (Among them: Admission is charged to attend games; no one pays rights fees to broadcast the news; the networks and the NCAA charge money to license footage of their games; the games themselves fundamentally serve as advertisements for the NCAA, the sport, and the schools involved; broadcast networks' news divisions are not involved with sports telecasts; news programs don't sell sponsorships for their anchors' clothing, their monitors, and even the name of the broadcast itself. Note that he was talking about CBS, ABC, and Fox. He wasn't talking about ESPN, which, well, complicates things.)
The conclusion? To borrow the NCAA's own words, these games are non-commercial telecasts where everyone gets paid except the people playing in them.